Nurturing her passion for food into Vintage Chef Co, her culinary baby that provides delicious fresh meals and meal prep boxes for South Aussies, as well as a bustling cafe in Gawler, this foodie empire is making hungry tummies happy across our beautiful state. 
We sat down with Teagan to find out how it started and where it's going! Hope you're hungry!
Can you share with us the story behind how you transformed your passion for homemade cooking into a thriving business?
I have always loved cooking but more importantly, I love experiencing the joy on people's faces when they enjoy my food. Transforming my passion into a thriving business just happened organically. I went from cooking in the family restaurant and for friends, to catering my own events and cooking homemade meals for family and friends to buy and take home. As things slowly got more and more popular, I started a Facebook page on my offerings and the rest is history.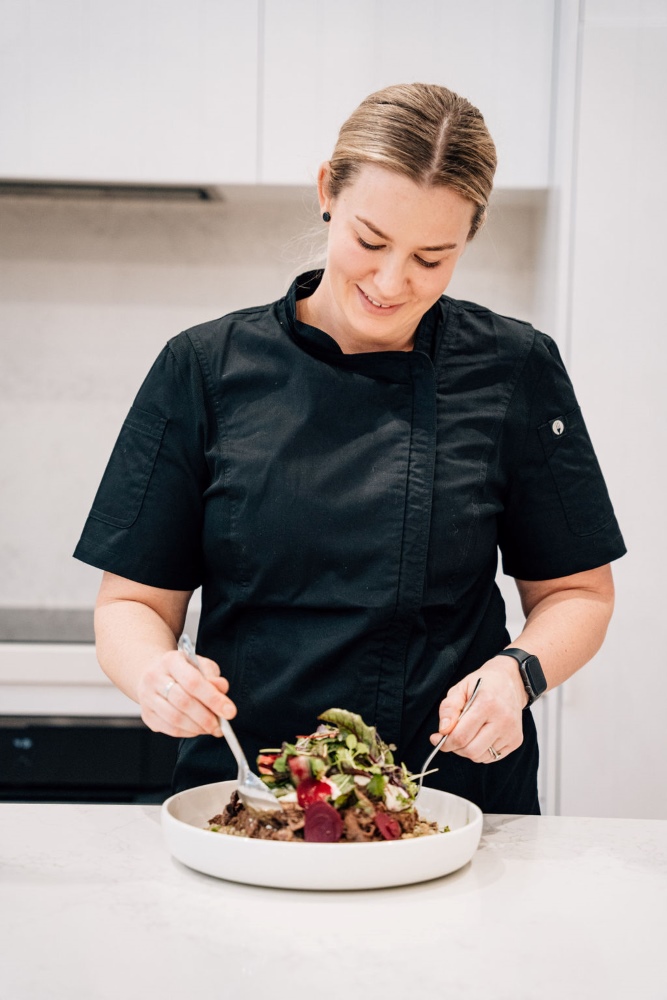 How did your childhood experiences, like planning dinner parties with your grandmother and helping out at your parents' restaurant, shape your love for food and catering?
My childhood experiences have and will continue to shape my love for food and catering forever. I was inspired daily with the passion, drive and devotion my family had for working hard and doing things the right way. Customer service and manners were ingrained into me from birth. As for my Nannee (grandmother), I love that woman and spent most weekends with her while growing up, reading cookbooks, planning dinner parties and cooking our little hearts out. 
Tell us about the pivotal moment when you were asked to create a 5-course menu with matching wines at the Sandy Creek Golf Club. How did that experience inspire you to start Vintage Chef Catering?
The pivotal moment for me to start Vintage Chef Co was when very good friends of mine, Kristen and Janelle (Z Wines Sisters), had the belief in me to showcase my cooking skills. We worked on an event together pairing wines to five different courses and had a blast doing it. At the end of our evening, I received a standing ovation – that was the sign and encouragement I needed to take things to the next level.
Can you recall a particular event or project that stands out as a favourite to you or a proud accomplishment?
The business has grown substantially over the years with many achievements. I have pinch me moments on the daily and honestly can't believe this is my life, however I think the leap from renting the family restaurant to building a production kitchen is certainly up there as a proud accomplishment. It was such an amazing project, we designed it ourselves and my husband built it with the help from friends who have trades. The production kitchen is on our very own property in the Barossa Valley.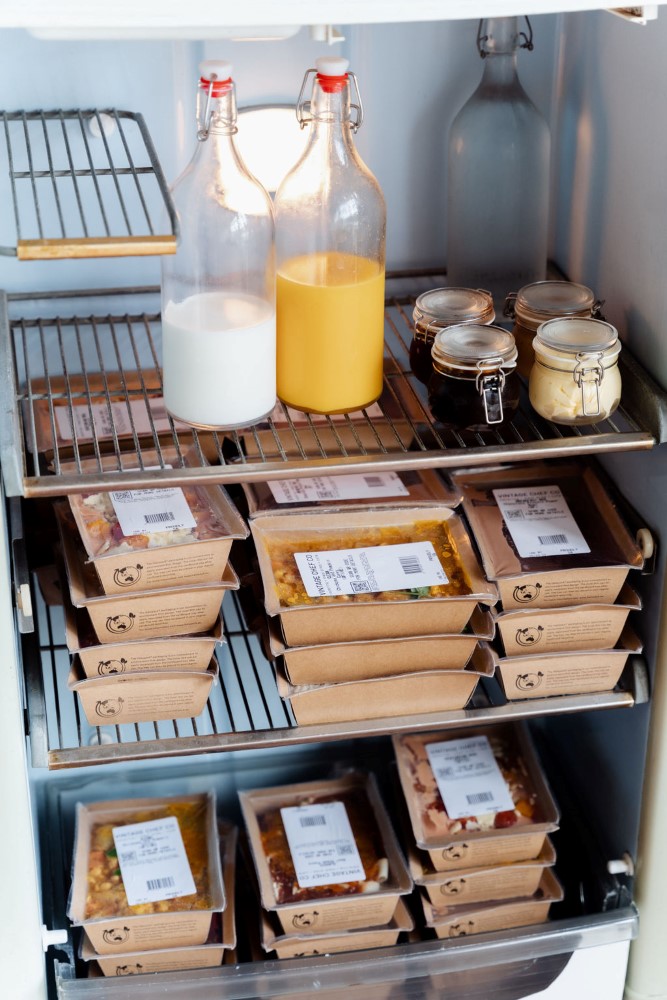 What motivated you to venture into meal preparation for time-poor individuals with Vintage Chef meal prep?
Being a busy mum and wanting to stay healthy whilst working full time, I started meal prepping for our family. A key reason was my hubby Ethan was spending over $20 a day for lunch while working in his construction job. Once we started eating these meals, all of Ethan's work friends started to buy them too. Not long after, my family and friends started to utilise the meals as well. It was at that moment I started my Facebook page, selling the meals via the platform and offering a roadside pick-up or limited local delivery.
Within time we launched a website and it grew substantially to where it is now – delivering over 6,000 meals SA wide. *DISCLAIMER a lot of blood sweat and tears were experienced in between.*
How do you view the significance of offering mums and families a stepping stone for preparing family meals?
I could not be more passionate about the significance of offering mums and families the ability to buy back their time. Not only is our product something I am extremely proud of, it allows families to save money, avoid takeaway and still eat home cooked food of nutritional benefit, that is also delicious.
How do you decide on the meal offerings you sell, and where does the inspiration for these dishes come from?
The inspiration for the meals comes from home cooked favourites that everyone loves, especially the ones that take hours to prepare in the kitchen, that you can enjoy in 3 minutes. We also love to have a great variety of dishes every single week, having different cuisines with carbohydrates and proteins in our 6 week rotating menu, and we also cater for those that are needing the GF options or want to stick to 'clean eating' alternatives.
What can visitors expect from your family friendly Vintage Chef Co Cafe at the Starplex in Gawler?
Visitors can expect fresh meals and snacks to eat in, a meal prep pick up point and our take home meals that are available to buy in store. They will also get to experience our warm customer service, amazing coffee, fresh juice and smoothies, all wrapped up with good vibes.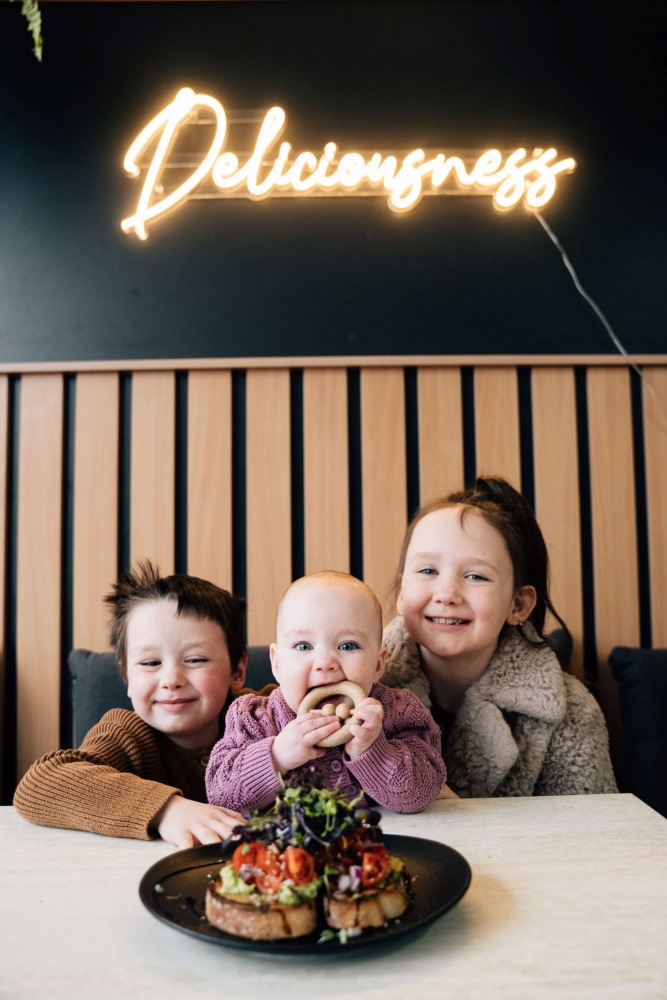 As a busy mum of three, how do you manage to balance your family life with running a successful catering business and café?
I manage to balance my family life and run a successful business with an extraordinarily amazing team behind me and a great mindset, adopting the mantra, 'the more you do, the more you can do!'
What drives you to keep innovating and expanding your business? Are there any future plans or projects you'd like to share with us?
The sky's the limit for us – I am always open and alert for new opportunities. In the way of future plans or projects, I will let you all in on a one word little secret… FRANCHISE!!
Teagan's top 5 meal prep meals from Vintage Chef Co are:
Classic honey mustard chicken 

Clean Thai green chicken curry

Classic chicken rogan josh

Classic ravioli milanese 

Clean chicken yiros
---
18-20 Alexander Avenue, Evanston Park