WORDS: Larissa Sewell
Being a twin mama who knows a thing or two about delicious food and family-friendly locations, I've put together my handpicked list of the best places I like to eat with my kids in Adelaide. 
These spots not only offer delicious meals but also provide ample opportunities for your littles to explore and play. Let's dive in…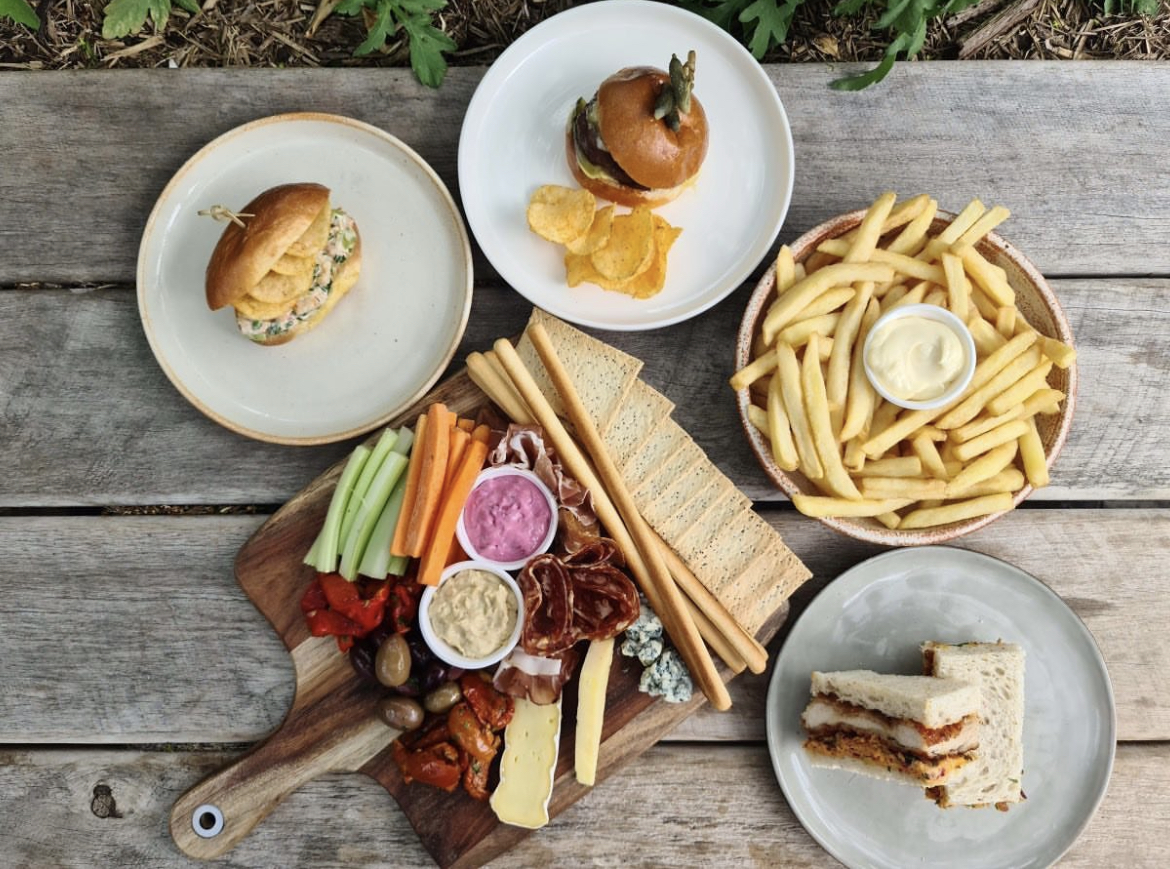 Botanic Gardens Kiosk
Wander through the lush Adelaide Botanic Gardens and you'll stumble on this beautiful little cafe oasis, nestled under the shade of the biggest oak tree that you ever did see. You'll be sipping away on the perfect cup of coffee while your kids greet ducks and spot turtles in the adjacent pond, all whilst munching on their sweet potato fries and aioli. The cafe menu includes favourites like burgers, fish and chips, warm pastries and a daily soup (and of course, excellent coffee) – this place has a humble but delicious menu with something for everyone.
We frequent here often, and my kids and nieces love the fantastic kids' menu options, including hand-crumbed chicken schnitzel and a to-die-for ham and cheese croissant. Before you leave the gardens, take a stroll through the enchanting children's kitchen garden and be inspired by the seasonal garden and its bountiful produce. Oh, and if you're anything like me, you'll want to stop by the Diggers Club for a little shopping!
---

Comida Hahndorf
Tucked away on the Main Street of Hahndorf is the beautiful and oh-so-delicious, Comida. This restaurant and bar offer a menu that will make both adults and kids very happy, with its delightful Spanish influences. But the real magic happens when you wander through the restaurant and past the back deck…You'll find yourself on a sprawling property with a perfectly curated garden and orchard—truly a food forest! Let your little ones roam and play amidst the wonders of nature while you await their house-made crumpets drizzled with local honey, for brunch – or your paella, tapas and jug of sangria for afternoon delights. My kids have snuck many a delicious stone fruit off the trees in the orchard. Just remember to keep an eye on them near the bridge and creek at the bottom of the property.
---

Peter Rabbit
Prepare to enter a whimsical oasis right in the heart of Adelaide's city centre. Peter Rabbit, gives off those 'Mr. McGregor's Garden' vibes – it's a quirky space that surprises both adults and kids alike. From the inviting atmosphere to the fantastic food and drink options, Peter Rabbit offers a vibe that will make the whole family hop for joy. It's a true hidden gem in the CBD. 
---

Pirate Life Brewery
Ahoy, mateys! If you're in the mood for a swashbuckling adventure for all, Pirate Life Brewery is the place to be. With its vast outdoor and indoor spaces, you'll find there's sooo much room for dining, socialising, and letting your little ones be themselves. There is a large designated kids' play corner outside, but there is just plenty of space for them to roam too. In winter, you can cozy up by the fire pits, and challenge your family to a game of shuffleboard or indulge in some arcade-style fun. And let's not forget the delicious wood-fired kitchen with a unique, seasonal menu and the selection of Pirate Life beers for the grown-ups. It's a pirate's paradise!
---

Plant 4 Bowden
Hungry for options? At Plant 4 Bowden, you'll find a diverse selection of mouth-watering food options all in one location. Whether you're craving dumplings from Joe Dumpling, a delicious, locally inspired dish from My Grandma Ben, Sushi from Kome Kome, or a smoothie and bliss ball from Nutrition Republic, this place has you covered. The indoor and outdoor eating options mean you can enjoy your meal in any weather. Plus, the large outdoor space boasts a grassy field and a play area, perfect for your little ones to burn off some energy (and perhaps to allow you to regain some sanity!). And if you visit during summer, be prepared for some splashy fun in the splash fountain area. Just remember to bring a change of clothes!
---

The Humble Sando
Sometimes, simplicity is key, and that's exactly what you'll get at The Humble Sando. Located near Grange beach, this beachside eatery is a favourite of mine and my twinnies. Grab a delicious sandwich for lunch, a cup of exceptional coffee, and head across the road to the grassed area overlooking the beach. It's the perfect spot to enjoy a fresh and healthy meal while soaking up the sun and taking in the beautiful surroundings. Afterward, take a leisurely stroll on the beach or explore the nearby jetty. It's a low-key, feel-good experience that we enjoy on the regular!
So, there you have it—my top 5 (+1 bonus) kid-friendly places to eat in Adelaide. These spots combine delicious food with fantastic locations where your little ones can run, play, and explore without a care in the world. As a twin mama who loves good food, these places have become our go-to spots for unforgettable family outings. Happy adventuring!
---
For more of Larissa's food adventures: