Founded in 1938, Kytons is a South Australian owned family bakery that has been assisting school, community and sporting groups to run successful fundraising drives in SA for the last 40 years.
Famous for their delicious, fluffy lamingtons, Kytons are supporting not-for-profit organisation, KickStart for Kids with a Lamington Drive, where profits from every packet sold will go towards the charity's funds to purchase products for their school breakfast and lunch programs, Camp KickStart initiative, as well as sanitary items as part of their KickStart for Kids Against Period Poverty campaign.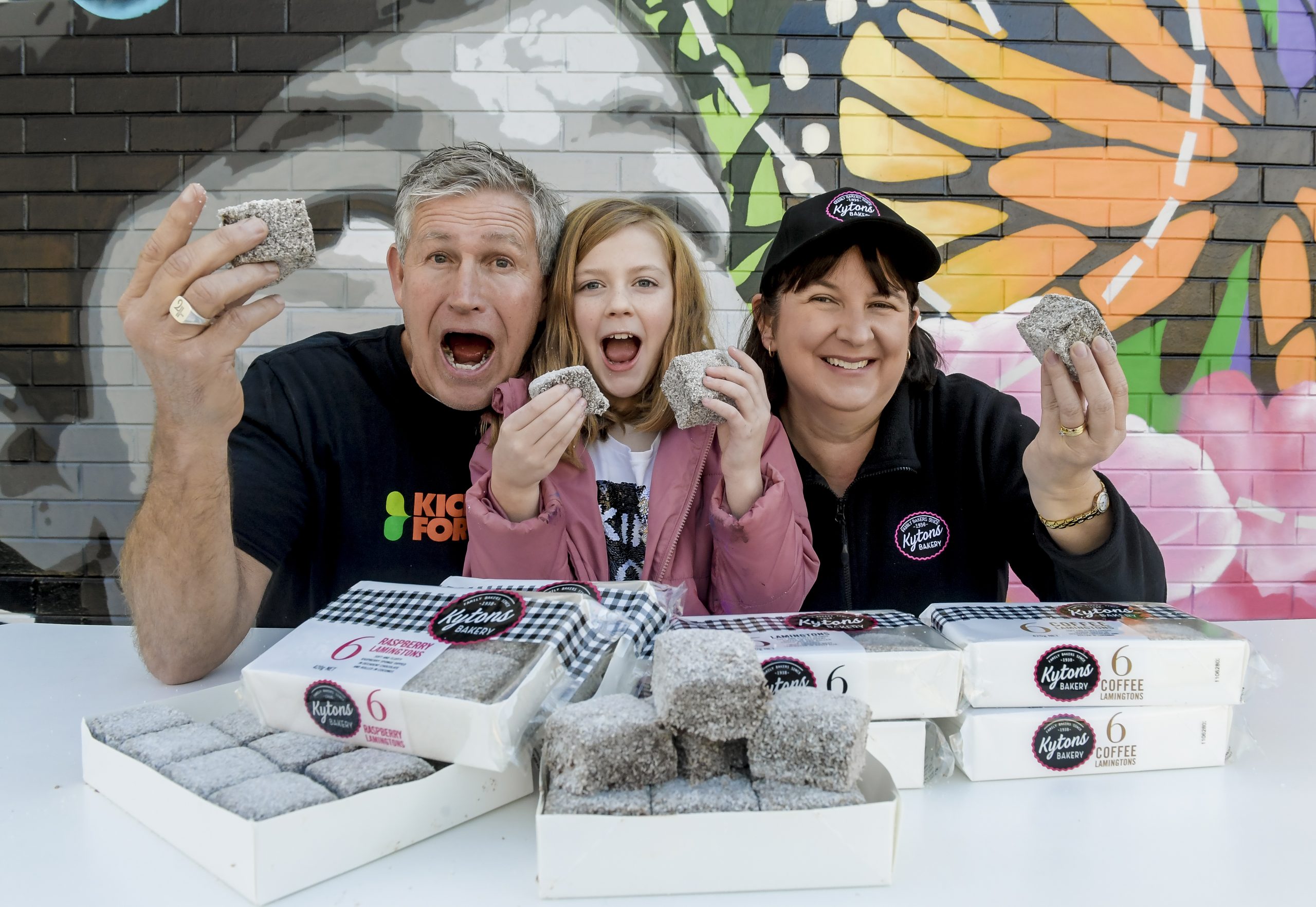 South Australian businesses, as well as students and teachers, will be able to choose from either traditional, choc-raspberry, choc-coffee, or mini lamington packs, making for the perfect treat to share at family dinner or even a sweet lunch box snack.
Kytons owner, Sharon Sutton, is excited to get behind the local charity, "Kytons is also passionate about our community and we build that community through our fundraising drives and sharing special moments across the entire community," Sharon said.
Our lamington drives are legendary in SA and are so easy to run. Any school can participate, they just have to select the dates that they would like to receive products and then distribute order forms to their students and then collect the packets of lamingtons when they're ready – not to mention feeling great about having assisted such an amazing SA-based charity.
Founder of KickStart for Kids, Ian Steel, is proud to partner with an iconic South Australian company. "Kytons have been a massive supporter of KickStart for a number of years and do amazing things in the community – their lamington drives are a prime example of this and we're proud to get support from such a loved South Aussie brand.
"We really hope that schools get behind this initiative and help us raise money for disadvantaged children in South Australia, and who doesn't love a good Kytons lamington!" Ian concluded.
How to participate in the fundraiser
Plan the date to receive your products and book it in with Kytons
Decide whether you are going to pack your own orders (and pass another 5% onto KickStart) or whether you'd like Kytons to do it.
If your school uses the QKR App, Kytons can set you up to use that to run your fundraiser.
Set the deadline for people to return the forms to you, allowing yourself enough time to collate orders and notify Kytons by Thursday of the week prior to your collection/delivery date.
Put the dates on the master form sent to you, and then photocopy and distribute to your students/members etc. via paper or email (or use the QKR App).
Collect forms and money and tally totals. You'll find a special "KickStart" tally sheet on Kytons website.
Call Kytons or email the tally sheet with the final order by Thursday the week prior to your collection/delivery date. They will need the tally sheet if they're packing your orders.
Pick up or have your order delivered and pay Kytons for your lamingtons.
Distribute to your customers on the day you collect the order.
Kytons will send through a summary of your order and let you know how much they've sent to KickStart for Kids on your behalf.
Feel great about having assisted such a worthy SA based charity!
KSFK X Kytons Lamington Drive will kick off on National Lamington Day, 21 July, until the end of September.
To book in their fundraiser, businesses and schools can contact Kytons directly or head to:
kytonsbakery.com.au/fundraising-downloads
To find out any further information, please contact Kytons: