Calling all budding chefs, it's time to cook up a storm at TAFE SA!
The July school holidays are fast approaching and TAFE SA has some action packed classes for kiddos from 4-16.
Children learn by touching, tasting, feeling, smelling and listening. The kitchen is like a sensory wonderland where they can use all of these senses at once! TAFE SA's Kids Kitchen program aims to facilitate this practical learning, which will also help to develop fine motor skills, eye-hand coordination and even math and science skills.
Whether your child is a Kinder Cook, Growing Gourmet Chef, or the next Master Class Professional – Kids Kitchen has a diverse range of classes for anyone and everyone! The program has been especially designed so that young people can pick and choose to suit their interests and capabilities.
All classes are taught by professional chefs in the world-class TAFE SA Regency campus. Students will use a range of ingredients, which will teach them where their food comes from and build a positive connection to all different types of food including fresh fruit and vegetables. Forming a positive experience with fresh foods is crucial to building the foundation to good nutrition.
Bigger kids, 7 and up, will get the opportunity to learn with the lecturer and without the help of parents. This is an exciting opportunity to gain some confidence in the kitchen!
Whatever age, your kids will be so proud when they can bring the recipe home and cook it again for you. Kids Kitchen will teach your little ones skills that will stay with them for the rest of their lives.

KINDER COOKS – 4 to 6 years
Muffin Madness
Tuesday 10 July 2018
9:30am-12:30pm
Choc Caramel Surprise Muffins
Sweet Potato & Cheese Muffin Bites
Slice of Heaven
Wednesday 11 July 2018
9:30am-12:30pm
Rocky Road Slice
Cheese, Ham & Cherry Tomato Slice
Kinder Cooks Picnic
Thursday 12 July 2018
9:30am-12:30pm
Lamb Kofta Pops With a Chef's Salad
Orange & Strawberry Yo-Yos
Tasty Lunch Box Treats
Friday 13 July 2018
9:30am-12:30pm
Alphabet Cookies
Chicken & Bacon Sausage Rolls
*Children in this age group MUST be accompanied by an adult in the kitchen. No exceptions will be made due to OH&S requirements.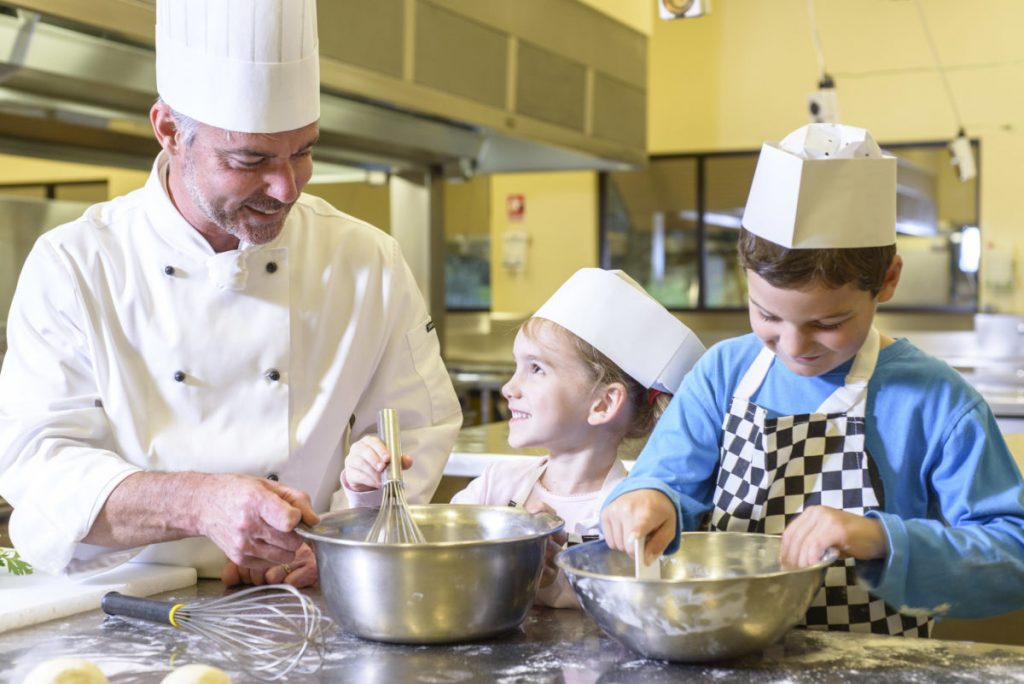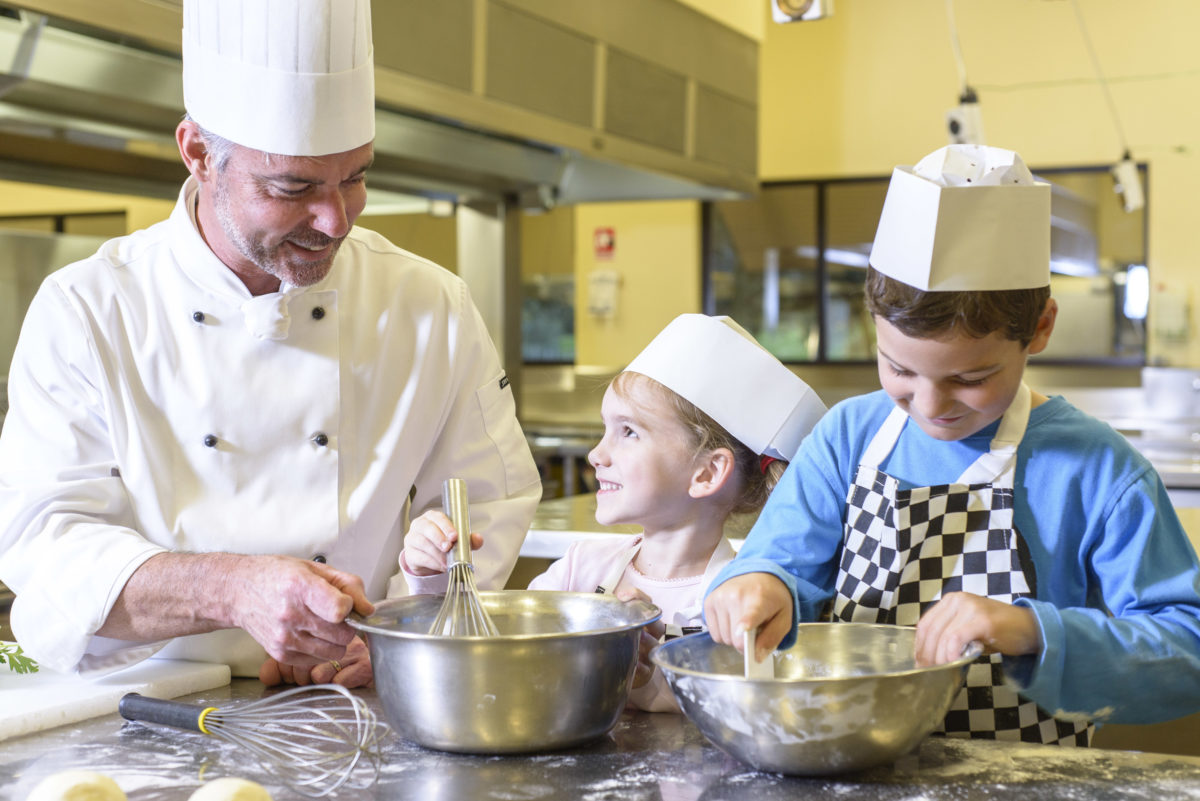 GROWING GOURMETS – 7 to 12 years
Gluten Free Gourmet
Tuesday 10 July 2018
9:30am-12:30pm
Double Chocolate Brownie Surprise
Coconut Macaroon
Winter Warmer Apple Crumble
OR
Party Favourites
In this class, chicken nuggets will be taken to a whole new level and turned into a delicious snack. There will also be savoury toasties, a fantastic healthy alternative to pizza.
——————————————————————————
Indian Easy
Wednesday 11 July 2018
9:30am-12:30pm
Vegetable Samosas
& Yoghurt Raita Dip
Butter Chicken & Pilau Rice with Coconut, Almond & Sultana
OR
Big Bikkies
In this hands on class kids will bake a giant chocolate chip cookie and delicious vanilla and chocolate biscuit twists.
——————————————————————————
Lunchtime Legends
Thursday 12 July 2018
9:30am-12:30pm
Rolls & Scrolls
Big Bikkies – Sultana Oat Chews & Subway Style Biscuits With M&M's, Choc Chips & Sprinkles
OR
Delicious Gluten Free Lolly Bag
Come along and learn how to make 2 simple gluten free treats and leave with an overflowing lolly bag.
——————————————————————————
Naughty But Nice
Friday 13 July 2018
9:30am-12:30pm
Chocolate Brownies
Mini Mango Cakes with Lime Syrup
Pretty Palmiers
OR
The Sweet & Savoury Kitchen
Banana & Nutella Sushi
Cheeseburger Cupcakes
---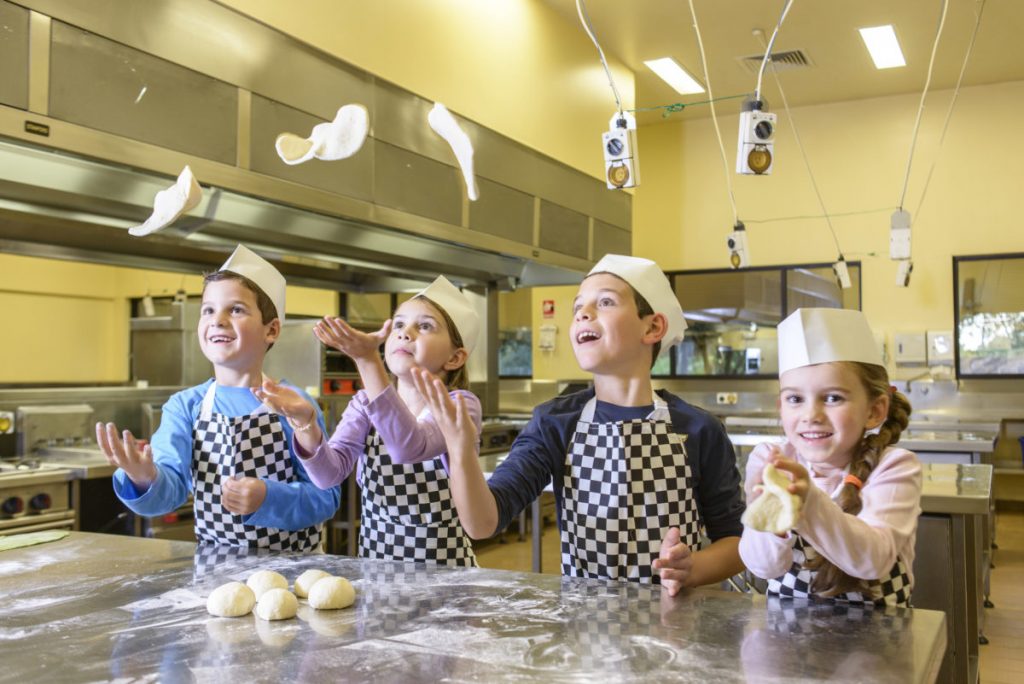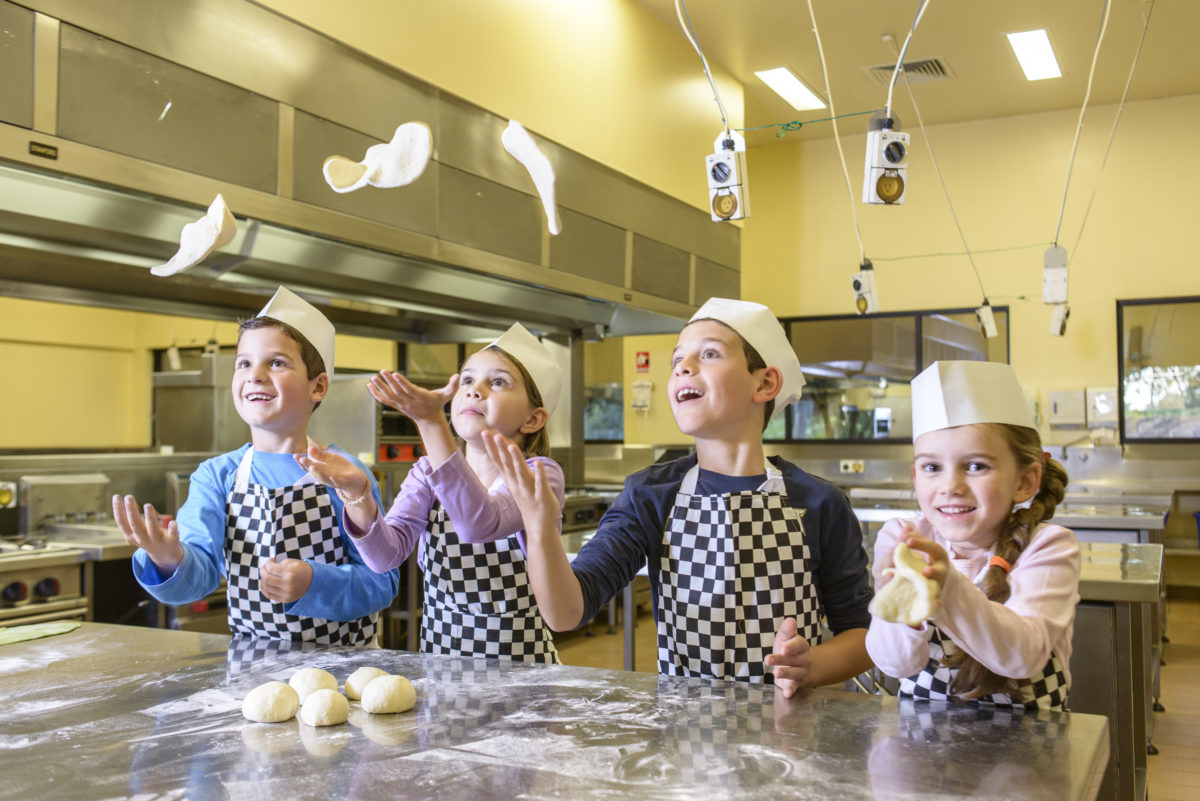 MASTERCLASS – 13 to 16 years
Let's Go Party
Tuesday 10 July 2018
9:30am-2:30pm
Gourmet Pizza Slab
BBQ Pulled Beef Sliders
Chicken, Cheese & Spinach
Sausage Rolls
Frangipani Tarts
High Tea at Regency
Wednesday 11 July 2018
9:30am-2:30pm
Blondes with Fresh Strawberries & Shaved White Chocolate
Filo Spinach & Cheese Cigars
Pinwheel Sandwiches
Caramelised Onion & Chicken Tarts
High Tea at Regency will be served by the kids, to two guests from 2.00pm until 2.30pm
Letter & Shape Creations
Thursday 12 July 2018
9:30am-2:30pm
Master chefs get to unleash their creative side with this unique masterclass! Create an individual
masterpiece using letters, numbers and shapes. Creations will be made using layers of sweet spiced shortbread filled with custard and inspired cream. Finish off with fruits, macarons, meringues, coloured buttercream and edible flowers.
"D" For Delicious Drip Cakes
Friday 13 July 2018
9:30am-2:30pm
Layers of sponge and cream are the base for this delicious drip cake. Coated with several colours made from cream, kids will learn how to master the ombre look – making their cake look like a work of art.


VENUE
TAFE SA Regency, 137 Days Road, Regency Park
HOW TO BOOK
To enrol visit tafesa.edu.au/shortcourses. Book early to avoid disappointment.
Cancellations are non-refundable.
T (08) 8348 4662
E hospitality@tafesa.edu.au
Follow: @tafe_sa