Partnering with mum, nutritionist, and influencer Ana Robinson @mummy_mya to develop a series of nutritious yet delicious recipes, Kenwood Kids in the Kitchen aims to incite excitement amongst parents and children to inspire new memories and recipes that will be passed down for years to come.
Understanding the challenges of feeding kids and keeping them entertained during the school holidays, Ana has created three recipes that are designed to teach kids how to bake or cook, and will no doubt see the entire family gathered around the kitchen for a second helping!
As a mum, I've struggled in the past with creating healthy yet delicious recipes for my children. We all know that kids can be fussy little eaters. However, with the help of Kenwood, coming up with new recipes and cooking great- tasting dishes is a breeze. Kenwood makes it easy to get creative in the kitchen, and the kids love helping – and taste- testing – all the delicious meals!" Ana says.
Get your kids in the kitchen these school holidays
With Kenwood's catch-cry of 'The joy of homemade' in mind, Ana has utilised her trusty Kenwood Mixer to whip up three recipes:
Banana Muffins with Whipped Maple Ricotta for the lunchbox
Pork & Pumpkin Sausage Rolls for an afternoon snack
Beef & Ricotta Lasagne with hidden veggies, for a delicious meal the whole family will enjoy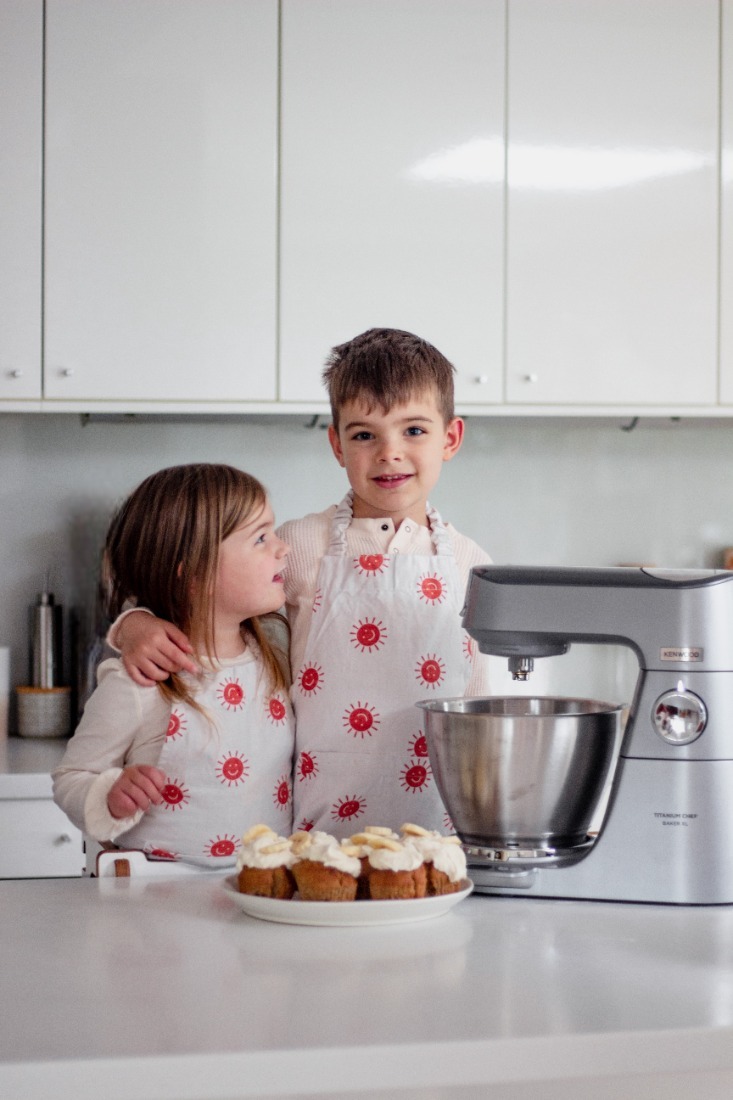 Banana Muffins with Whipped Maple Ricotta
Mixer
Muffins
1 cup wholemeal spelt flour
1 cup wholewheat plain flour
1 tbsp baking powder
1 tsp cinnamon
1 cup mashed banana
2 eggs
1/2 cup extra virgin olive oil
1/2 cup maple syrup
1/3 cup milk of choice
1 tsp vanilla extract
Whipped maple ricotta 
500g fresh ricotta
1/3 cup maple syrup
1 tbsp vanilla extract
Meth0d
Preheat the oven to 180c and line a muffin tray with paper muffin cases
In a large mixing bowl combine all of the dry ingredients through a sieve
In your mixer bowl add all of the wet ingredients and whisk together on a medium speed for a couple of minutes. Remove the whisk attachment and replace with the 'K beater'. Place the machine back on a low to medium speed and slowly add in your dry ingredients. Only beat for a couple of minutes until a batter has formed.
Spoon the mixture into your prepared tins and bake for 25 minutes or until cooked through. Remove from the oven and allow to cool.
In the meantime, place the ricotta in the mixer bowl with the whisk attachment. Whisk on a medium speed while slowly pouring in maple syrup and vanilla extract. Once you have a smooth consistency, the whipped ricotta frosting is ready.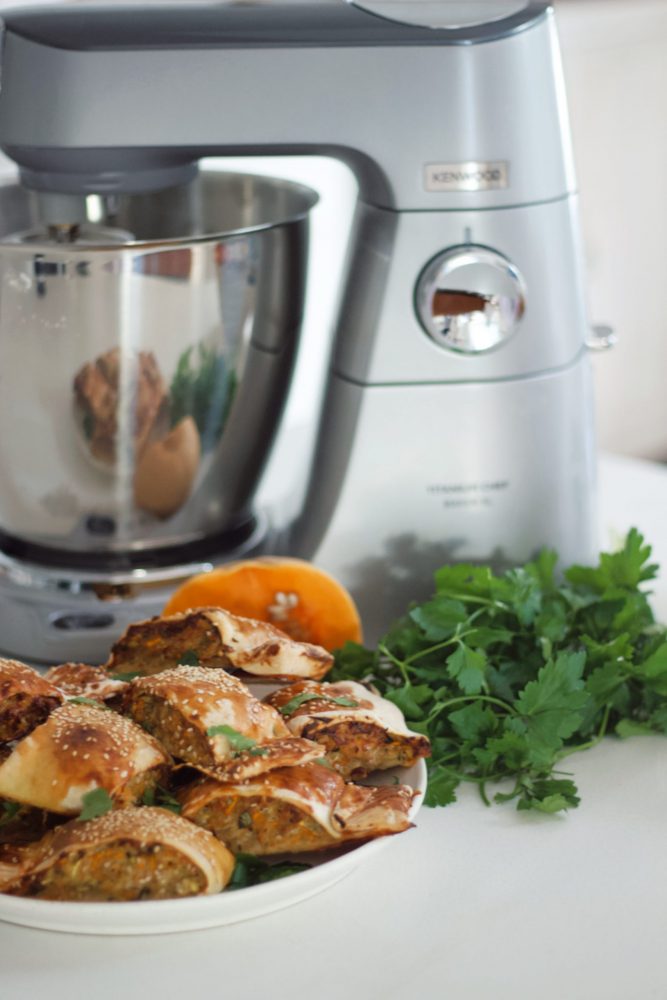 Pork and Pumpkin Sausage Rolls
Food Processor
1 1/2 cups flour
50g butter, cubed
1/2 cup iced water
500g free range pork mince
1 cup grated pumpkin
1 grated zucchini
1 diced brown onion
2 garlic cloves, diced
1 tsp Worcestershire sauce
1 cup parsley, chopped
1 cup sourdough bread crumbs (made using 1/2 a loaf of sourdough bread)
3 eggs
Sesame seeds
Fennel seeds
Method
To make your dough add the cubed cold butter to your mixer and whisk until a crumbed texture is formed. Swap the whisk attachment over to the dough beater, slowly pour in the water until a dough is formed. Add some flour to your bench, take the dough out and kneed for a few minutes until smooth. Wrap the dough in some glad wrap and place in the fridge to chill.
Add the sourdough bread to the food processor and blitz until fine breadcrumbs are formed.
Using your grating attachment in the food processor, grate the pumpkin and zucchini.
Preheat the oven to 180c. In a large mixing bowl add the pork mince, diced onion, diced garlic, grated pumpkin, grated zucchini, parsley, breadcrumbs, Worcestershire sauce, 2 eggs and season with salt and pepper. Mix together with your hands until well combined.
Take the dough out of the fridge, remove the glad wrap and place on your lightly floured bench top. With a rolling pin, roll out into a 30x40cm rectangle.
Place the pork mixture along the long side of the pastry into a log, leaving 3cm on the edge. Fold over the pasty and enclose with a fork.
Seperate the egg white from the egg yolk and use the egg yolk to brush over the top of the pastry. Then top with the seeds. Cut into slices and add to a baking tray, lined with baking paper. Bake for 25 minutes or until golden and cooked through.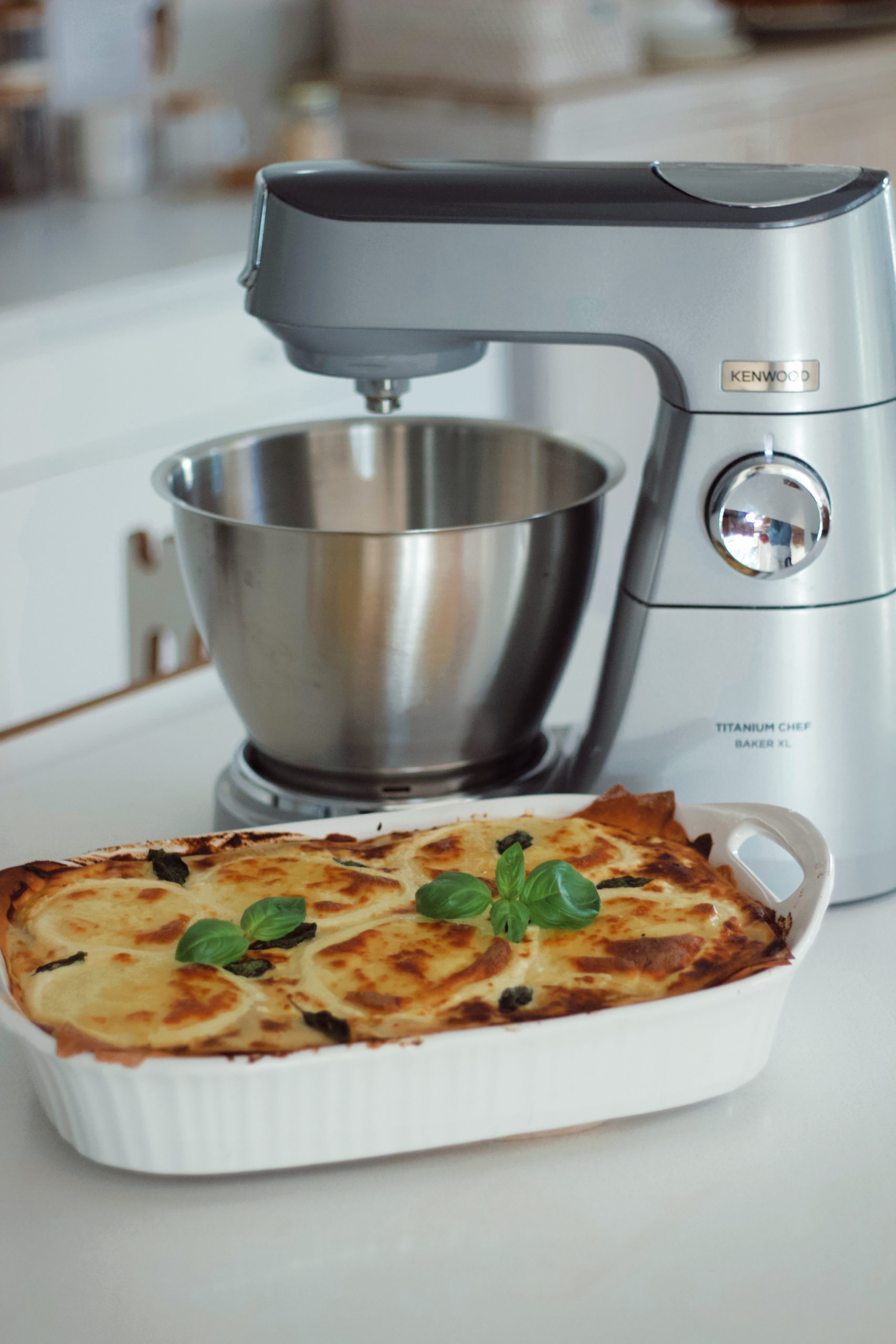 Beef and Ricotta Lasagne
2 1/2 cups flour
4 eggs
500g beef mince
3 carrots
2 zucchinis
1 eggplant
1 brown onion
2 garlic cloves
2 tbsp dried Italian herbs
1 tin tomatoes
350g tomato passata
1kg fresh ricotta
600ml thickened cream
1 cup grated parmesan
1 mozzarella ball, sliced
Method
To make the lasagne dough, add the flour and eggs to your mixer and allow to combine using the dough tool attachment on a medium speed. Once combined pour the mixture onto a lightly floured surface and knead until it's smooth and elastic (add more dough as you go if you need to). Place back in the bowl and cover with a tea towel.
Meanwhile, preheat your oven to 180c and line a baking tray with baking paper. Chop the carrots, zucchini, eggplant and onion and place on the baking tray, drizzle with olive oil and roast for 35 minutes. Once cooked remove from the oven and allow to cool.
In the blender add the tinned tomatoes, the roasted veggies and garlic cloves, drizzle with salt and pepper and blitz until smooth and sauce has formed.
In a large fry pan, saute the pork mince until just browned, add the tomato veggie sauce as well as the passata and dried Italian herbs.
Add the ricotta, thickened cream and parmesan to the food processor and blitz until smooth and well combined.
Flour your bench top again and cut the dough into 6 pieces, leave one on the bench and cover the rest with a towel. With your hands, flatten and shape one piece of dough into a 1/2 inch thick rectangle. Dust it lightly with flour and pass it through the widest setting on the pasta machine. Fold it in thirds, like a letter, and pass it through the widest setting again. Repeat this folding and rolling step 10-12 times, dusting the dough with flour if it becomes sticky.
Without folding the dough, pass it through the next setting on the pasta machine. Keep reducing the space between the rollers after each pass, lightly dusting the pasta with flour on both sides each time, until the pasta is about 1/16 inch thick an 3 inches wide. Lay the rolled-out dough on a tea towel. Roll out the remaining dough in the same way and keep laying them on tea towels on your bench.
Now to assemble the Lasagne. Pour some sauce on the bottom of the baking dish and lay your 2-3 sheets of pasta (depending on the side of your dish). Top with the meat sauce and then the ricotta mix. Repeat these steps until you get to the top and there is lasagne sheets. Top with remaining ricotta mix and sliced mozzarella. Bake for 35 minutes or until golden on the top.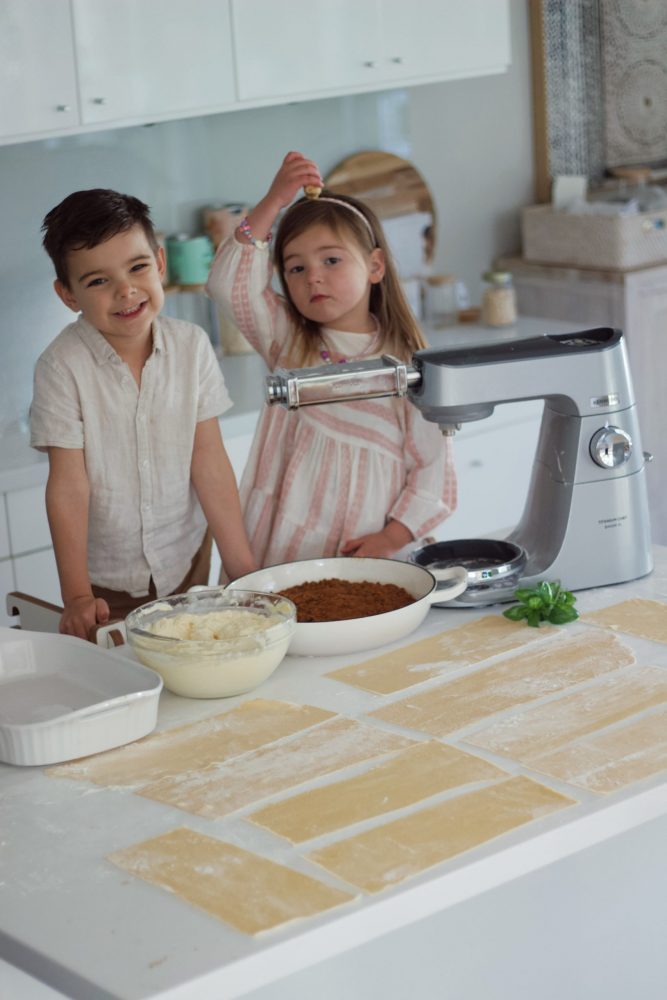 What products were used to make these recipes?
The Kenwood Kids in the Kitchen recipes were made using one of Kenwood's most iconic products, along with its most popular attachments:
Titanium Chef Baker XL Silver, RRP $1,299.00
Precise baking starts here. Baking is an uninterrupted pleasure with direct-to-bowl weighing, an extra baking bowl and a delicate fold function for featherlight meringues and mousses. The machine comes with Easy Weigh Scales, a Nesting Bowl Duo, Smart Power Control, and the Lightest Touch (with a unique LightLift head that makes easy work of adding ingredients to your mix).
Kenwood Food Processor Attachment, RRP $229.00
Serve expert stir-fries, sauces, and dips with the 1.2L Food Processor, which includes an easy-to-clean, shatterproof and dishwasher-safe TritanTM bowl, a knife blade, and a variety of discs, depending on whether you want to grate, slice, shred or cop!
Thermoresist Glass Blender Attachment, RRP $149.00
Blend hot or cold ingredients for soups or smoothies. The 1.6L ThermoResist Glass Blender can blend soup straight from the freezer without the risk of clouding or shattering and helps achieve an even smoother consistency of thick mixture with the accompanying stir stick.
Food Mincer Attachment, RRP $199.00
The multi-use food mincer can be used in your everyday cooking for versatile mixing of sausages, meatballs, and vegetarian dishes. Create with ease and control and know exactly what is going into your dishes.
Lasagne Roller Attachment, RRP $199.00
Turn your soft, silky pasta dough into the thinnest sheets ready for cooking, cutting, effortlessly guided through the lasagne roller.
For more recipes from Kenwood or to find out more about the latest range of Kenwood products: