Veggies in Disguise: Mac 'n' Cheese
Deliciously deceptive to even the most discerning young eyes!
Now, I have to say that as a staunchly proud veggie lover I adore the idea of placing them front and centre on the plate. However, as an aunty to a handful of little people I know that often it is the colourful healthy food that gets shoved around the plate (or thrown on the floor), while the pasta or rice is happily gobbled up. This recipe is perfect for deceiving such discerning young eyes. The combination of pumpkin, carrot and cauliflower create the perfect faux cheese sauce, with the cauliflower and butternut pumpkin creating a creamy texture without needing to overdo the cheese.
Perfect for freezing into kiddie sized portions for a quick instant meal, this recipe is also customisable to your little ones tastes by adding additional veggies, shredded chicken or sausages.
Cook time: 20 mins + additional grilling time (optional)
Serves: Up to 10 portions for 2-5year olds
Ingredients
500g macaroni 
200g butternut pumpkin, grated or diced finely
200g cauliflower, roughly chopped into small pieces
200g carrots, grated (approx. two carrots)
1/2 – 1 cup water
125g cream cheese, diced
1 cup milk
1/2 cup grated cheese + extra for topping
Optional extras

Dried herbs or paprika dusted on top
Additional cooked veggies or meat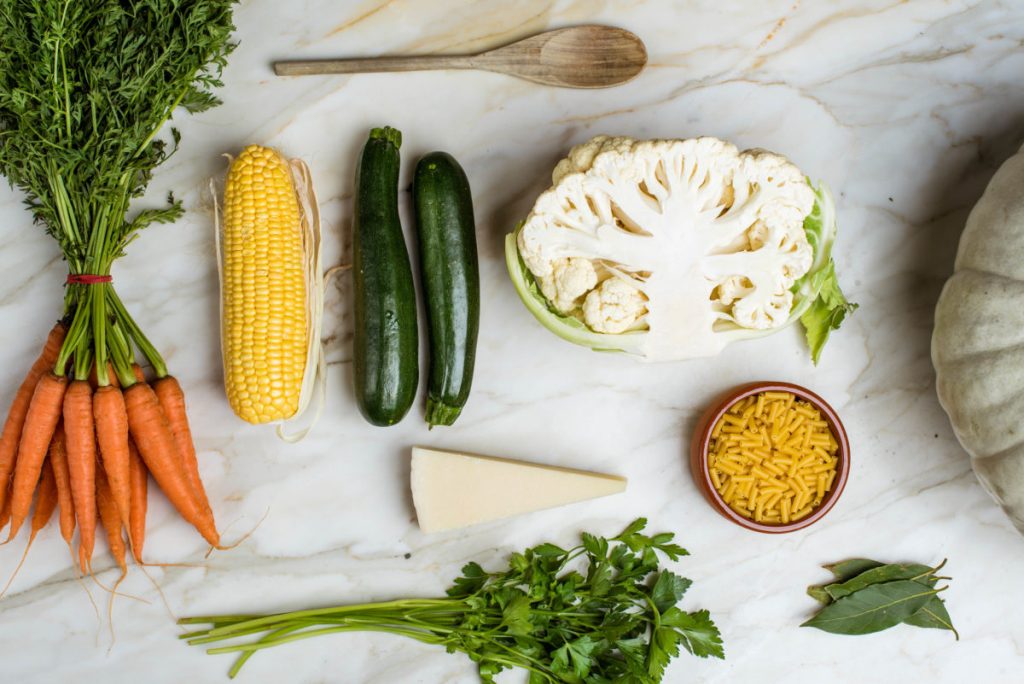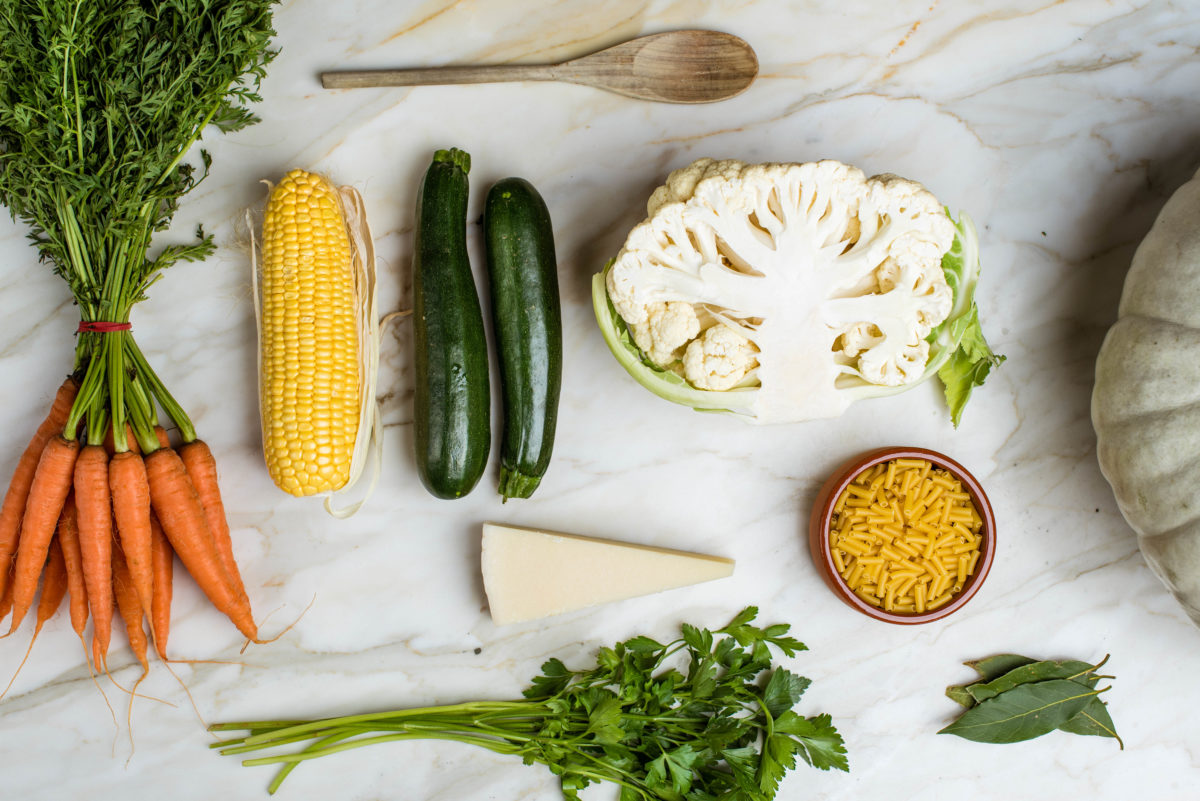 Method
Begin by placing pumpkin, cauliflower and carrots along with 1 cup of water in a medium sized saucepan over medium heat. Cover and allow the vegetables to gently steam until they are tender and can be mashed easily with the back of a spoon.
You may need to add a little more water if you notice the pan boiling dry – this will happen if you've got the temperature up a bit too high. 

You may also do this step in the microwave if preferred. Place veggies and about 1/2 – 3/4 cup of water in a microwave safe dish, cover and cook on high for about 9 minutes or until tender.
Meanwhile cook macaroni in salted water as per packet instructions, usually around 10-12 minutes. Drain and reserve.
Once veggies are tender keep them in the saucepan and use a stick blender to blend until smooth. You can also use a blender, but I prefer to use the pot to save additional washing up.
Return blended vegetables to stove over medium heat and add the milk, diced cream cheese and stir until smooth, you might need to use the stick blender again to blend thoroughly. Once combined and smooth add the shredded cheddar cheese. Don't be tempted to add extra as you'll end up losing the smooth texture of the sauce.
In a large bowl combine the sauce to the macaroni. If you're adding extra cooked veggies or shredded meats this is the time to incorporate them.
At this point you can serve up the mac 'n' cheese as is, but for one step further you can grill it to add a crispy top. 

For grilling, place pasta in an ovenproof dish and top with additional grated cheese and a dusting of paprika or dried herbs if desired. Grill until top is crispy or browned.
NOTE: While you can use any old pumpkin, I recommend butternut as it is less watery and has a really lovely silky texture that adds to the faux cheesiness of the dish.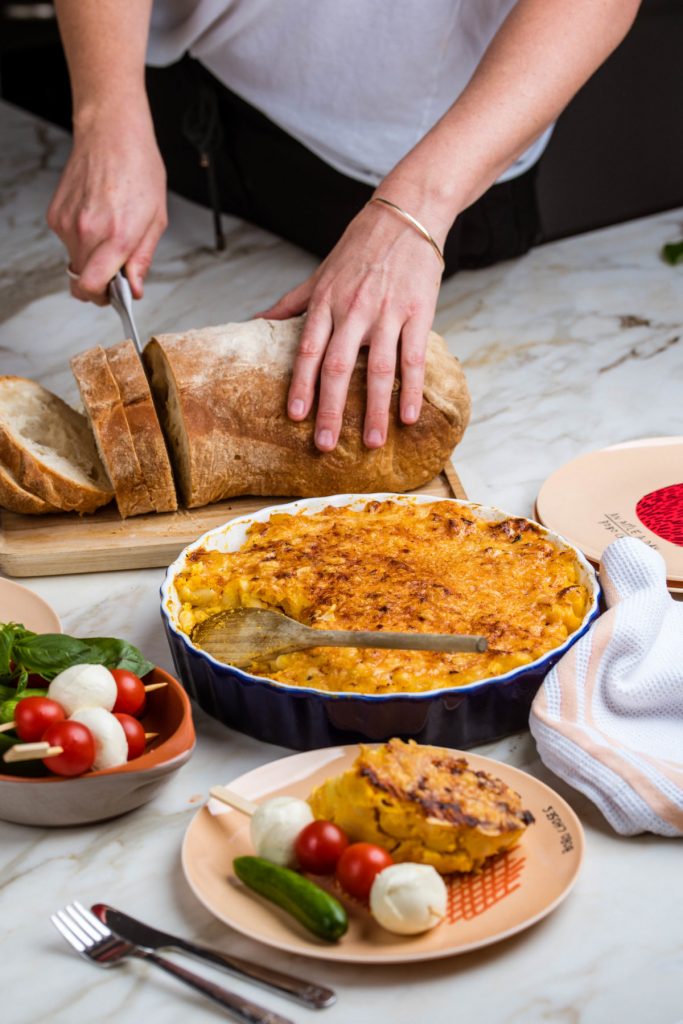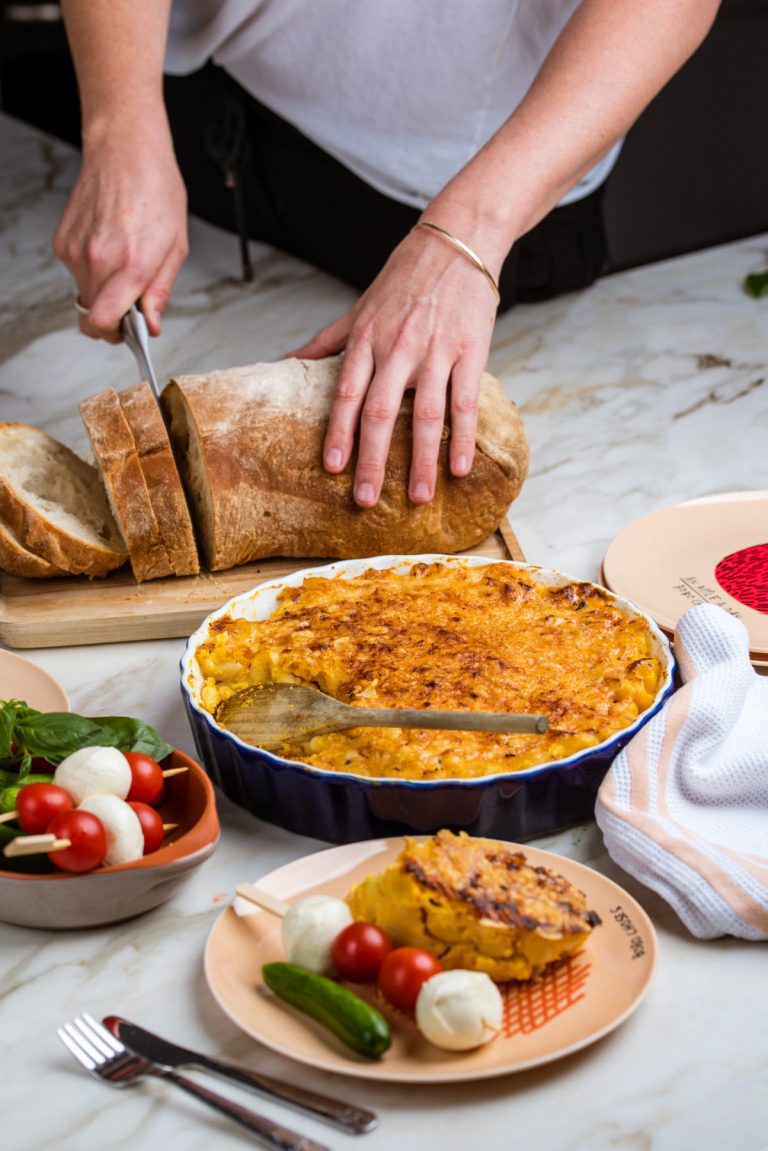 Bio
Passionate about supporting local food producers, Jessie takes pleasure in observing the diverse array of colour and beauty found in nature, in her cooking. She celebrates modern day Australia by melding cultures and cooking techniques with beautiful seasonal ingredients creating a vibrant and colourful menu for her catering business, Jessie Does Food and newly opened My Grandma Ben.
jessiespiby.com / mygrandmaben.com
@jessie_spiby / @my.grandma.ben