These easy party treats are as entertaining as they are tasty!
It has been a busy ride since appearing on MasterChef Australia 2015 for Jessie Spiby. These
days you will find her at hosting pop up dinner events around Adelaide, penning articles and
recipes for several publications, curating her pop-up event Food, Booze + Dancing Shoes as
well as catering at Plant 4 where she is a resident event caterer and has her own eatery My
Grandma Ben.
"I like to think about the colour of food and how it will impact the plate, but I also enjoy the
imperfection that nature naturally gives to food. Above all, I want every mouthful to be
delicious," Jessie Spiby
Passionate about supporting local food producers, Jessie takes pleasure in observing the
diverse array of colour and beauty found in nature in her cooking. She celebrates modern day
Australia by melding cultures and cooking techniques with beautiful seasonal ingredients
creating a vibrant and colourful menu for her catering business Jessie Does Food and newly
opened My Grandma Ben.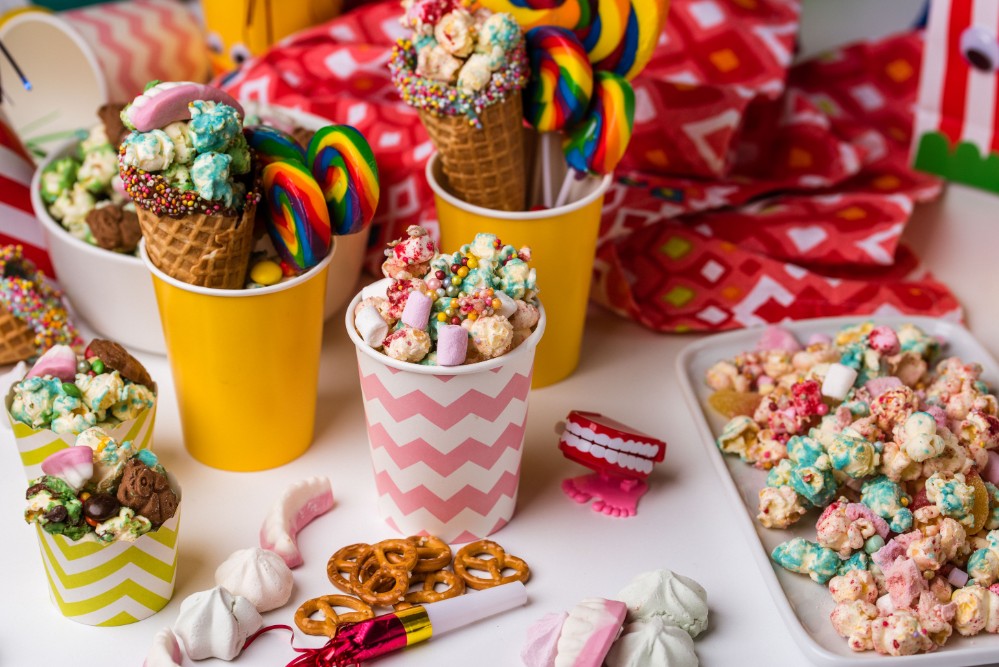 It's a Kiddo party
Kids birthdays. They might evoke a feeling of stress, perhaps even present a lurking sense of
dread, but fear not. In this Pinterest-instagram- obsessed world you too can throw something
together that will look cute as a button, taste great and most importantly won't break the
bank… or crush your soul.
These little recipes can be done in a matter of minutes and have been designed to be perfectly
presentable as is, or a great base for your own creativity to take over.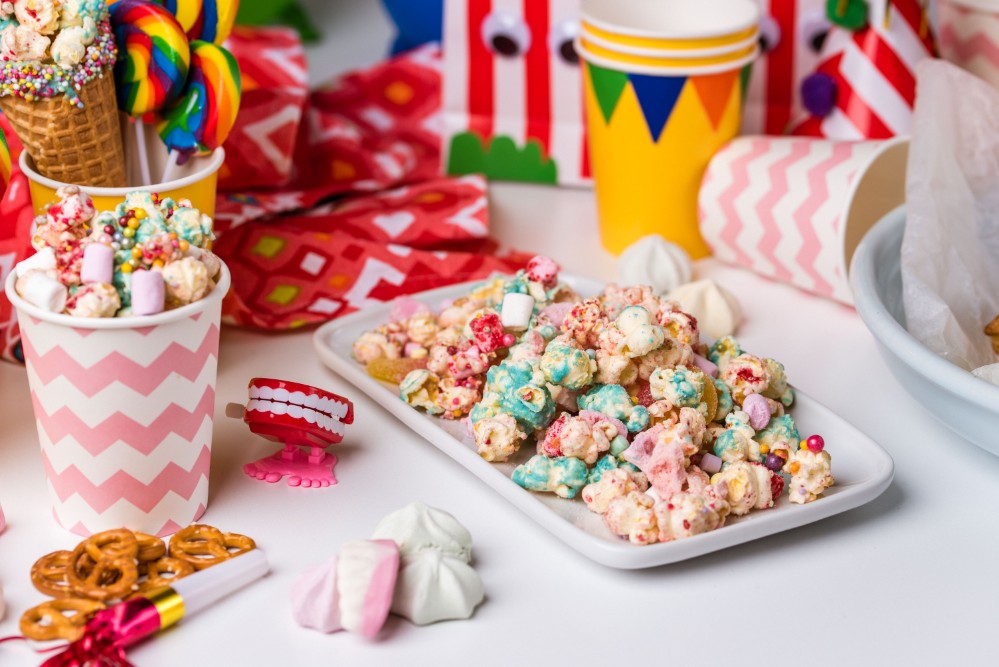 White chocolate popcorn
Fun flavoured popcorn designed for little hands. Packed into cupcake patty pans, paper bags or
waffle cones dipped in white chocolate and sprinkles, it's the perfect mixture of naught and
nice. The white chocolate base is the same for both flavours and is ridiculously quick and easy to
put together. The rainbow unicorn adds a sparkly touch of make-believe to the party while the
scary bears in slime with tiny teddies and candy teeth scattered throughout is a creepy
alternative.
We've listed a few different options for toppings, however you can use whatever takes your
fancy. Get creative! This recipe is also a great substitute for traditional style lolly bags.
White chocolate popcorn base
*The same base is used for both flavours
3-4 cups popped corn OR 1/2 cup kernels popped as per packet instructions
Roughly 1 cup OR 1 block white chocolate
1/2 tbs coconut oil
Rainbow unicorn popcorn
1/4 tsp natural food colouring – pink
1/4 tsp natural food colouring – blue
2 tbs sprinkles
2 tbs larger natural coloured sprinkles
1/2 cup mini marshmallows
Sour candy hearts
Scary bears in slime popcorn
1/4 tsp natural food colouring – green
1/4 tsp natural food colouring – blue
2 tbs sprinkles
1/2 cup chocolate Tiny Teddies
1/2 cup of candy teeth, chopped in halves
Method
Melt white chocolate and coconut oil in the microwave in 30-second bursts until melted and
smooth, stirring in between to combine.
Divide the chocolate into two bowls and add the food colouring. Divide your popcorn into two
and pour over the chocolate, tossing gently to coat. Evenly spread popcorn onto a baking tray.
Add sprinkles and desired toppings. Allow to sit until dry, ideally 30 mins but I would
recommend a couple of hours. If it's a hot day, pop it in the fridge to help it set.
To serve, place in patty pans, paper bags or big bowls and the kids (and adults) can help
themselves.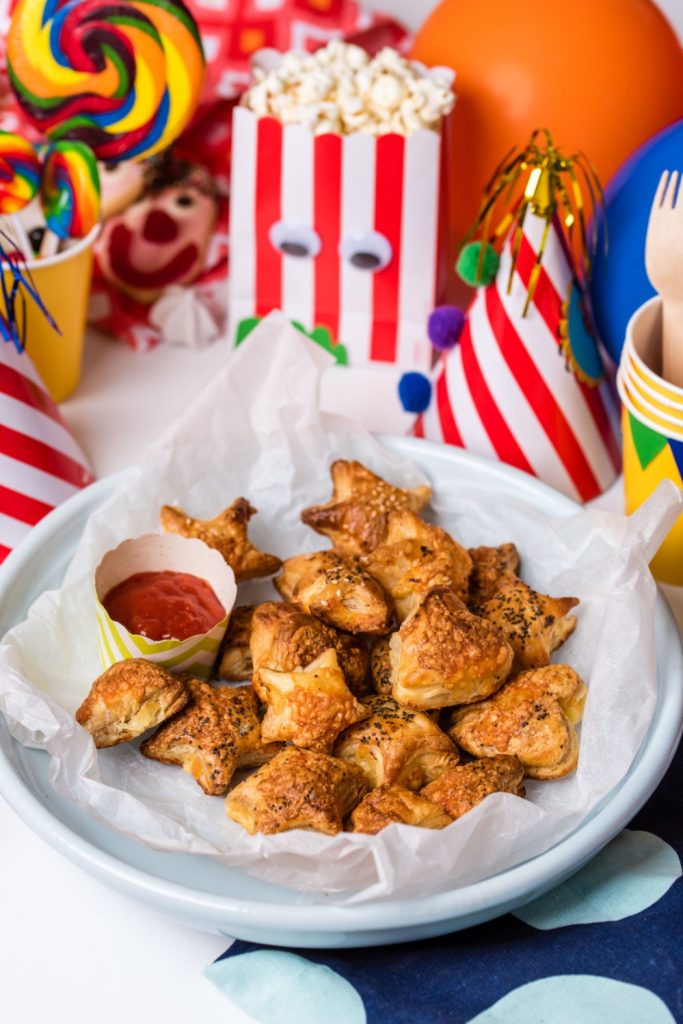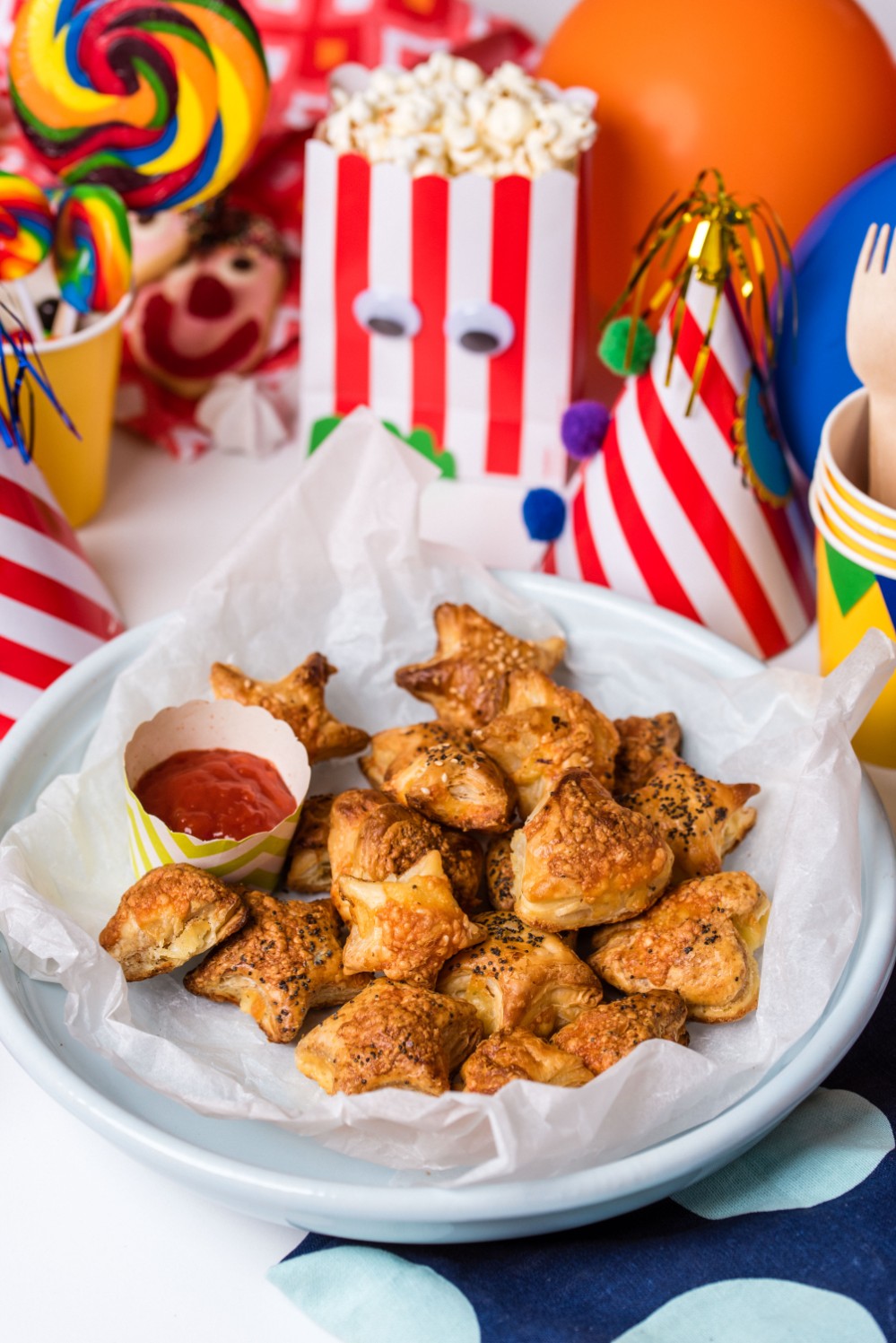 Cheesy stars and hearts
Cute as a button, incredibly moreish and ridiculously easy. These adorable little stars and hearts
are perfect for little people and tiny mouths. You will need cookie cutters for this recipe, any
shape will do. We've used stars and hearts but dinosaurs, arrows or butterflies will definitely
work a treat.
Ingredients
400g puff pastry sheet
1 – 2 of grated cheddar cheese, mix in a little parmesan or pecorino if you have some for a
sharper cheese flavour
2 tbs milk
Flour for dusting
Optional: paprika, poppy seeds, dried herbs and sesame seeds for sprinkling on top
To Serve
Tomato sauce or chutney
Method
Preheat your oven to 200C or 180C fan forced. Line two baking trays with baking paper, set
aside.
Unroll your thawed pastry. Sprinkle most of the cheese over half of the pastry sheet, then fold
the pastry sheet in half to seal the cheese in and press down gently.
Dust your work surface and rolling pin with a little flour and roll out the pastry until it has
doubled in size. If you don't have a rolling pin a bottle of wine will do.
Using a cookie cutter, cut the pastry into shapes and put them on the prepared baking sheets.
Brush the top of your shapes with milk and add a little more cheese, then sprinkle the seeds or
herbs of your choice if you are using any.
Scoop up the leftovers and re-roll to cut out more shapes.
Bake in the oven for 10-12 mins or until risen and golden. Serve warm or cold. If preparing
earlier allow to cool fully then place in an air tight container. You can store the puff pastry
shapes for up to 2-3 days.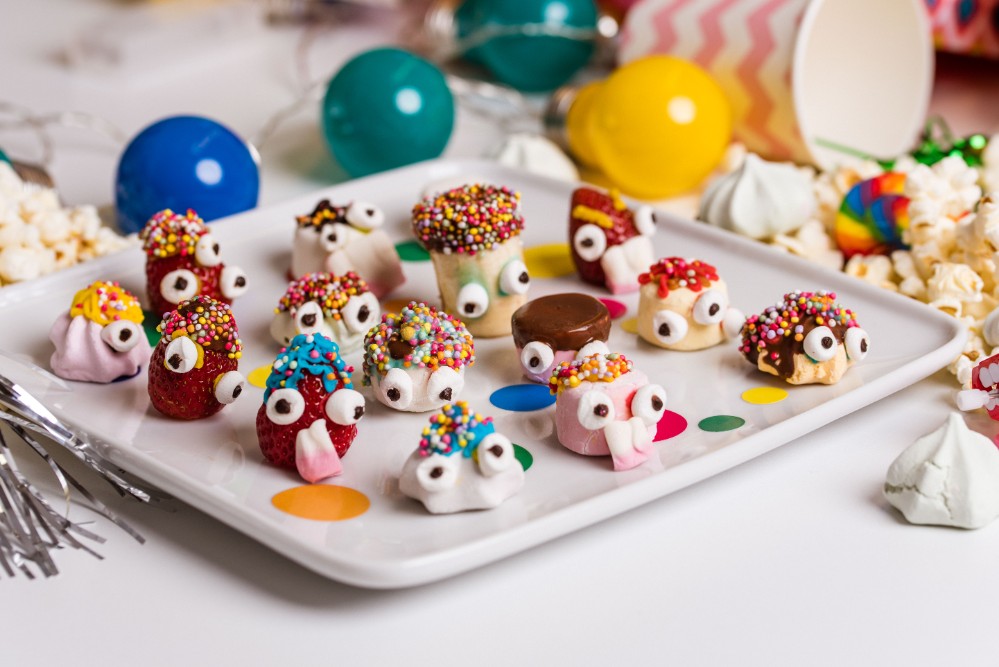 Little monsters
These little terrors can be made from fruit, meringues, marshmallows or a combination. It's a
charming way to get the kids eating some fruit at the party. These little guys are really easy and
you can customise them to your own taste. Be wary of using super juicy fruit as they tend to
bleed and you may have trouble keeping the facial features stuck on. Set up a decorating station
for older children, they may be inspired to make their own little critters!
Ingredients
Punnet of strawberries, tops removed
2 bananas, cut into 1 inch pieces
Large marshmallows – the type you toast camping OR meringue kisses
Small white marshmallows (for the eyes) the type used for rocky road
Candy teeth cut into 3 or 4 pieces
1/2 cup dark chocolate OR store bought piping icing
Sprinkles
Royal Icing for piping
* You may be able to find pre-made ready to pipe icing at your supermarket
1 1/2 cups pure icing sugar, sifted, extra to thicken if needed.
1 egg white
1/2 teaspoon lemon juice
Natural food colouring
Method
Cut your white marshmallow into the right size for eyes. I had to cut ours into three. I found it
much easier to roll the marshmallow as I sliced to prevent the eye shape from being too
squashed.
Melt the dark chocolate in the microwave in 30-second bursts until melted and smooth, stirring
in between. Place into a piping bag. Cut just the tip of the piping bag so you get a small hole
then pipe a little dot of chocolate onto the marshmallows to form you monsters eyes.
If you are making your own royal icing then follow below, otherwise skip the step.
Lightly whisk egg white and lemon juice together in a bowl. Gradually add icing sugar, whisking
until smooth and combined. Add more icing sugar if needed to thicken. Divide and add food
colouring if desired.
Using either your chocolate or coloured royal icing, begin piping the hair and facial features on
to your fruit and marshmallows. Stick the eyes on by placing a blob of icing or chocolate on the
backside of the eye then sticking it to the head. Add teeth for funny smiles or sprinkles to colour
the hair – there isn't any rules with these monsters.
You might need to leave the little monsters in the fridge for an hour to set rock hard. You can
make these the day before, however I would recommend making the banana ones just prior to
the party as the banana tends to turn slightly mushy.
Instagram: @jessie_spiby
Website: Jessie Spiby
Facebook: @jessiespibycooks