Get ready to shake off the winter blues and rekindle your sense of wonder with even better versions of our faves from  Illuminate Adelaide last year, Light Cycles and Light Creatures, as well as some new adventures in light and sound to explore.
Shining a light on South Australia and its regions for the month of July, Illuminate Adelaide welcomes people from all walks of life to experience a program of free and ticketed events by local, national and international artists and companies.

City Lights
Illuminate Adelaide's free city-wide centrepiece returns with a new series of immersive installations, artworks and large-scale activations set to turn Adelaide's most iconic streetscapes into a night-time adventure of colour and sound.
With more than 40 free works over 17 days, City Lights will shed fresh light when Illuminate Adelaide presents a new program of boundary-pushing local and international artists who will reimagine laneways, street-fronts and open spaces across the city in three precincts: North, East and West.
Wander through a playground of giant seesaws, dance beneath a unique series of laser sensors, stumble across a collage of luminescent pools and get lost in the shimmering pixels, optical illusions and projections when Adelaide's laneways, grand public spaces and buildings are transformed into a City Lights spectacular in July.
From 6pm-11pm, acclaimed artists and studios from around the world will create site-specific works including kaleidoscopic projections, immersive installations, and interactive exhibits at the intersection of art and cutting-edge technology
Location: Various locations across Adelaide CBD
Dates: 15-31 July
Time: Nightly 6pm-11pm
FREE

Light Cycles
The runaway hit of Illuminate Adelaide's inaugural program, Light Cycles, is back by popular demand, returning to Adelaide Botanic Gardens this July.
This Australian-first production from celebrated Montreal studio Moment Factory once again transforms the lush greenery of the Adelaide Botanic Garden into an after-dark immersive experience connecting guests to the natural world like never before.
After a sold-out season for its premiere run, Light Cycles' encore season in 2022 provides a chance to revisit or discover anew this world-leading blend of technical innovation and natural splendour right here in the city's backyard.
Enchanting the senses in a series of installations using light, scenography, audio, video content and special effects, the dedicated trail of Light Cycles will once again take audiences on a magical journey.
Wander the free-flow curated linear path with immersive works designed to enhance the overall visitor experience. Favourites like an ode to the setting sun in a tree-lined avenue, to a spectacle of story and song in the garden's Palm House return with Moment Factory's signature cutting edge use of light, lasers, projection and a moving original soundtrack.
Location: Adelaide Botanic Garden, entry via Frome Road (Ginkgo Gate) Dates: 7 – 31 July
Times: Tue – Thu from 6pm, Fri – Sun from 5.30pm, Closed Mon
Duration: Please allow 60-90 minutes to enjoy the full Light Cycles experience
Tickets: $38-$40 (RAA Member $32). Under 4 free, bookings essential.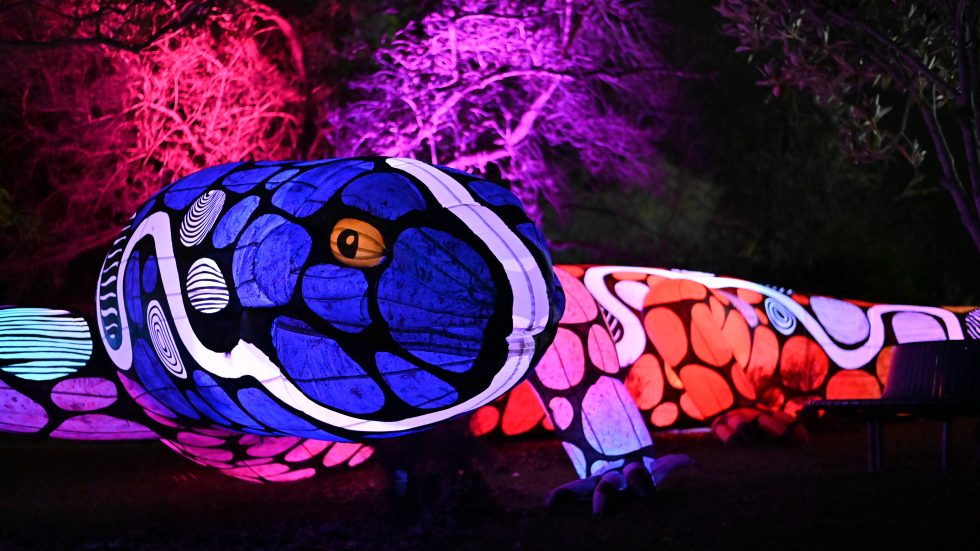 Light Creatures
After a sold out 2021 world premiere season, Light Creatures is back to take audiences behind the gates of Adelaide Zoo after dark.
Adelaide Zoo, alongside their presenting partner SA Power Networks, will showcase this captivating twist on the animal kingdom as part of Illuminate Adelaide. Light Creatures is brought to life by the talents of local and interstate artists, commissioned to create lanterns and illuminations.
The 2022 showcase has several new highlights. The first is a giant tiger lantern puppet, designed by A Blanck Canvas that celebrates the Year of the Tiger and conservation work to save the critically endangered Sumatran Tiger. Named Cahaya (meaning light/glow in Indonesian), the tiger will prowl the zoo with the help of local puppeteers from South Australian youth theatre company, Slingsby. Visitors can also engage in interactive storytelling and animal facts via the new Conservation Stations activation by Adelaide artist Vans The Omega.
Light Creatures' celebrated works by local Kaurna and Narungga man Jack Buckskin, Anangu artist Elizabeth Close and Melbourne-based designers A Blanck Canvas return in 2022. Some of these favourites include Tarutharu the huge rainbow skink, giant pandas and giraffe lanterns as well as jellyfish and coral in an Underwater World. These show stopping installations and lanterns will be flanked with immersive and interactive lighting effects and haze.
This year's program is also set to feature an array of appearances from the Zoo's own furry and feathery residents including the goats – with the Variety's Children's Zoo open after hours for visitors to enjoy.
Location: Adelaide Zoo
Dates: 7-31 July, Thu – Sun Times: 6.30pm, 7.45pm
Tickets: $26 – $30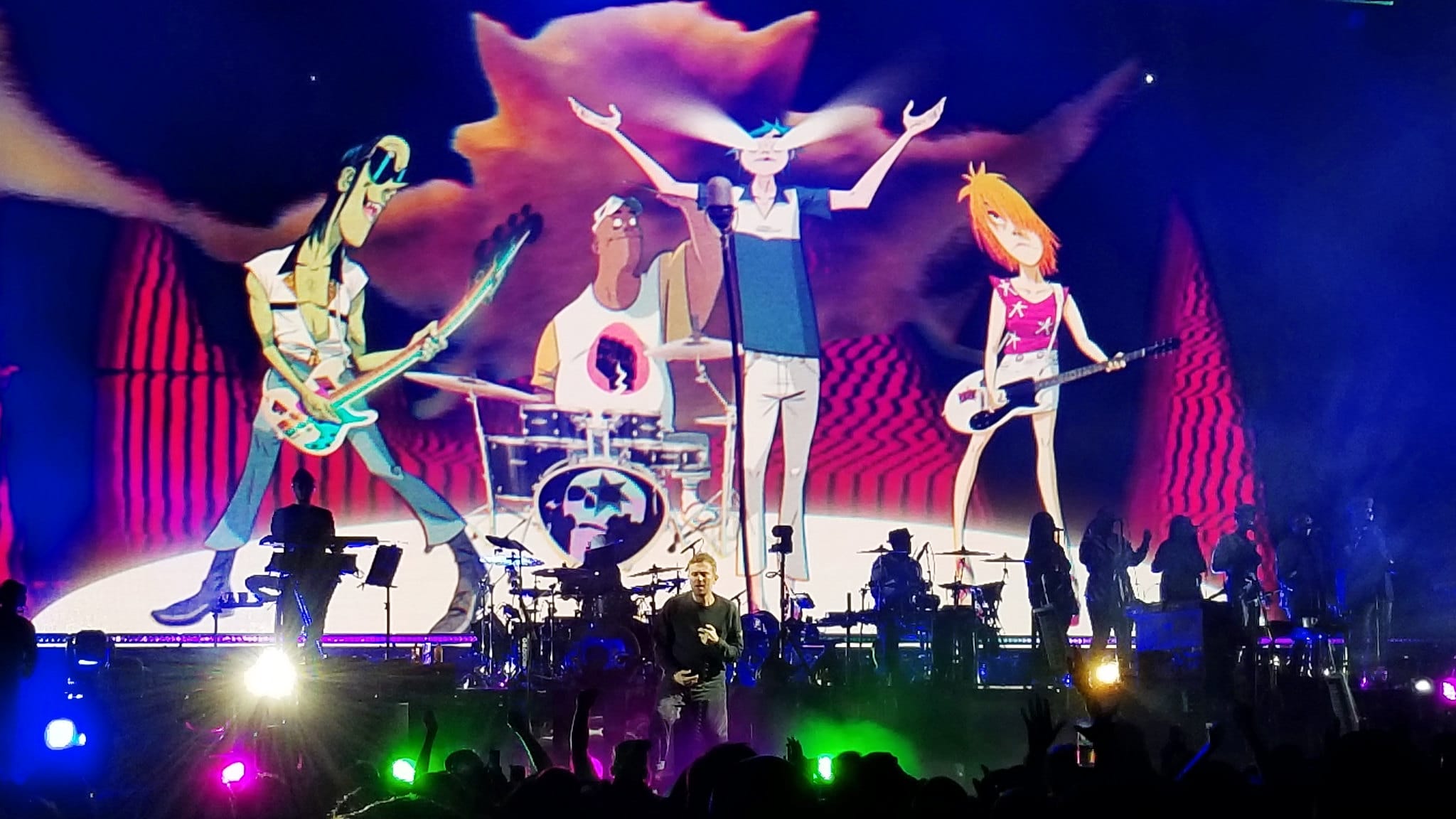 Gorillaz
The world's biggest virtual band Gorillaz will be performing as part of Illuminate Adelaide, for one night only at Adelaide Entertainment Centre.
Long before online concerts and festivals became a thing, Damon Albarn and Jamie Hewlett seamlessly meshed art, music and technology together to create the enduring and innovative global phenomenon known as Gorillaz, with 2D, Murdoc Niccals, Noodle and Russel Hobbs are set to perform at Illuminate Adelaide.
Returning to the SA stage for the first time in over a decade, the BRIT and Grammy Award-winning supergroup will bring their genre-hopping blend of hip hop, rock and dance to life with a 20-piece ensemble led by Albarn and an all-star army of collaborators. The virtual band will perform tracks across their seven album catalogue from Clint Eastwood and Demon Days to 2020's Strange Timez.
Touted as one of the biggest music events to hit Adelaide this year, this will be the final chance to catch the ground-breaking entourage as they tour Australia.
Location: Adelaide Entertainment Centre Dates: Thursday 28 July, 2022
Time: 8pm
Tickets: $110 – $180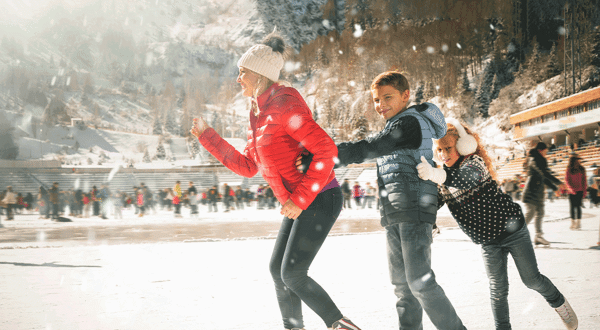 Base Camp
Your new winter adventure awaits at Base Camp – Illuminate Adelaide's latest pop-up attraction right in the heart of the city!
Nestled at Victoria Square, Base Camp is your Illuminate Adelaide winter village with a twist – purpose-built to gather your crew, raise a winter toast, and boldly go forth on your next adventure.
Co-presented by the team that brings you Gluttony and Lucky Dumpling Market year-on-year, head along and enjoy free entry, great food & drink, or get your skates on and enjoy Base Camp's dedicated ice skating rink!
Whether you're exploring its spread of ticketed installations, or just looking for a place to chill day or night, Base Camp has you covered for all your winter needs.
Location: Victoria Square / Tarntanyangga
Dates: Fri 01 July – Sun 31 July
Wed – Thu 4pm to 9.30pm
Fri 4pm to 11pm
Sat 10am to 11pm
Sun 10am to 9.30pm
Closed Mon – Tue
School Holiday Hours: Mon – Thu 10am to 9.30pm
Fri – Sat 10am to 11pm
Sun 10am to 9.30pm
Closing times may vary
Tickets: From $15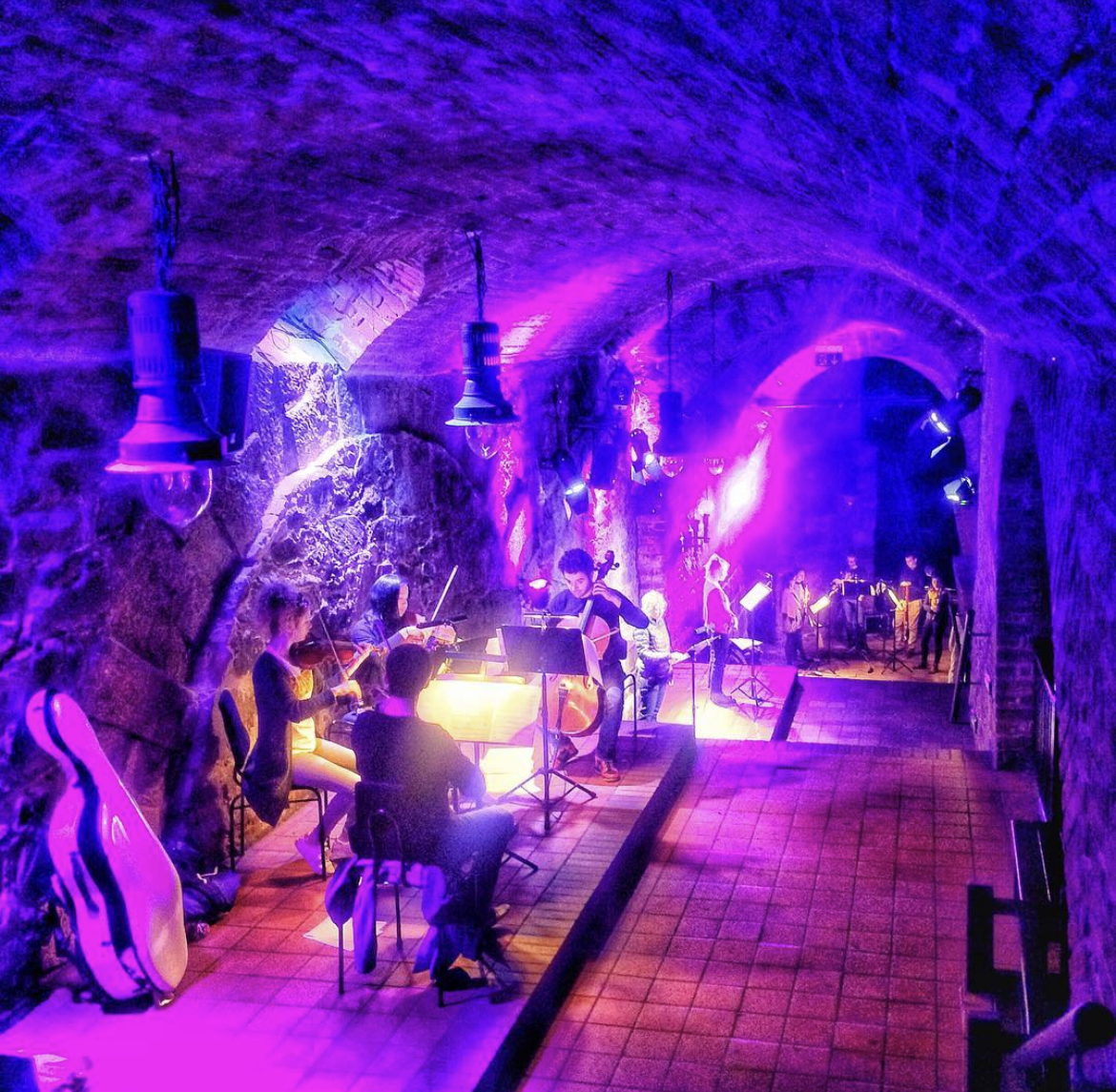 KLASSIK underground
In its Australian debut, the ground-breaking international series KLASSIK underground will transform Adelaide's Dom Polski Centre into an up-close and immersive concert series combining classical music with live visuals from leading Australian artists.
Defying all expectations, KLASSIK underground is a new experience of live music and visuals that's experimental, collaborative and always thrilling. Across three nights with three distinct programs, globetrotting Australian violist, member of the Gewandhaus Orchestra Leipzig and founder of KLASSIK underground, Tahlia Petrosian, will direct the collaboration between a star-studded ensemble of musicians and Australia's foremost visual artists.
From Friday 15 to Sunday 17 July, the three programs – Transfigured Night, Revolutionary Rhythms and Different Trains – will entrance and surprise audiences in equal ways.
Location: Dom Polski Centre, 232 Angas St, Adelaide
Dates: Friday 15, Saturday 16 & Sunday 17 July
Tickets: $50 – $60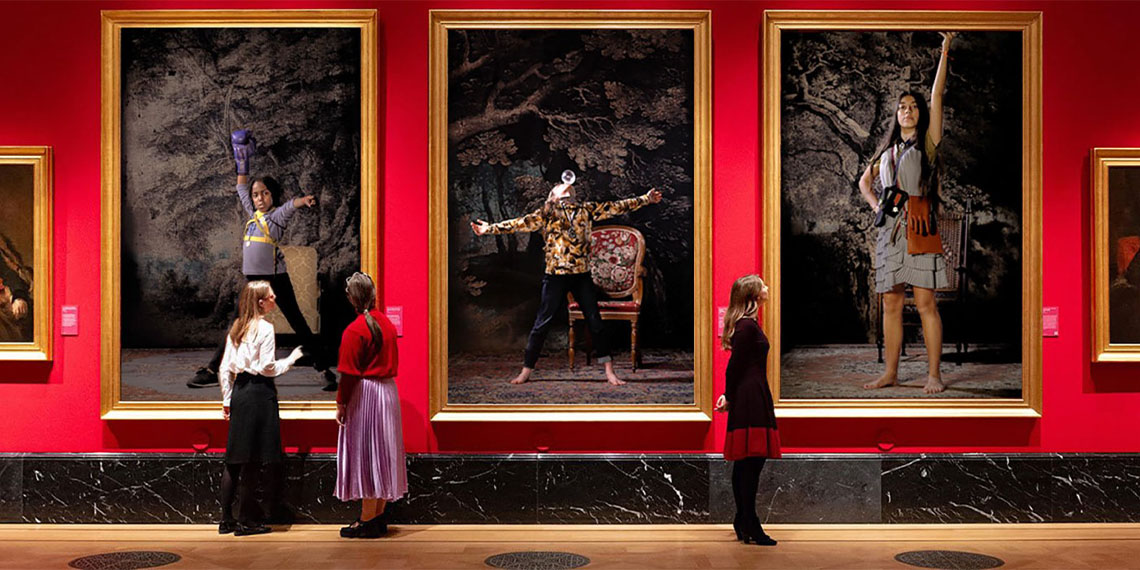 We Will Slam You With Our Wings
In an Australian premiere, Illuminate Adelaide will present an operatic video installation by Adelaide artist, performer and choreographer Joanna Dudley, called We Will Slam You With Our Wings.
To be held in the Mortlock Wing at the State Library of South Australia, the work will be presented as part of the City Lights program and run from 15 to 31 July 2022.
A seven-channel video piece, each screen depicts a 19th century colonial imperialistic portrait, with one noticeable difference: instead of a lavish depiction of white powerful men, six young girls, each from a different continent, stand in their own room and own frame with Dudley in the seventh.
In a defiant rebuke of the ghosts of misogynists past, this inspiring blend of opera and videography steals from some of history's most notoriously sexist speeches and recasts them into a feminist war cry echoing through the ages.
Location: Mortlock Wing, The State Library of South Australia Dates: 15 – 31 July 2022
Times: Mon to Fri: 8am – 11pm and Sat and Sun: 12pm – 11pm Duration: Allow 30 minutes
Tickets: FREE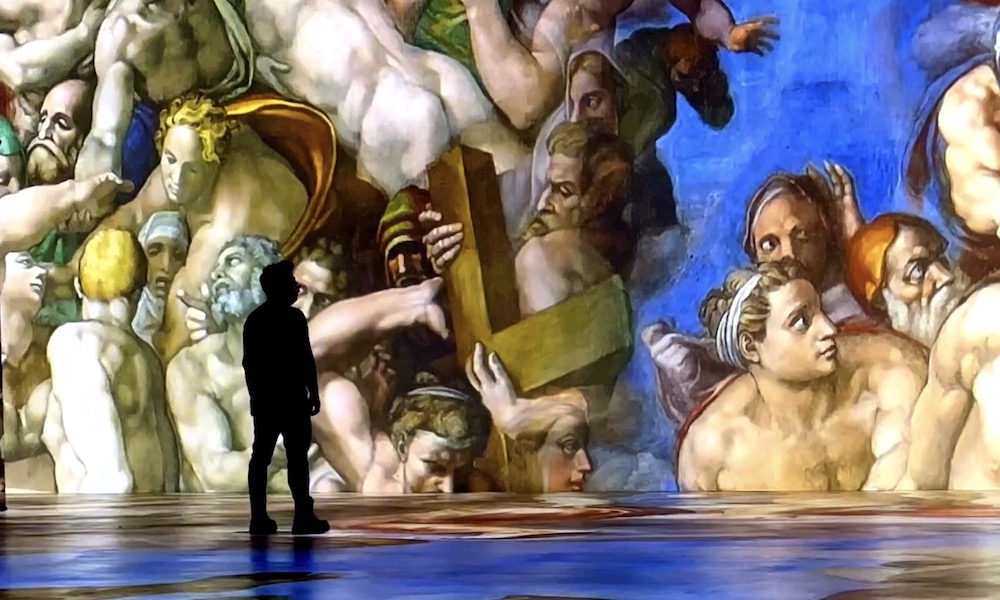 Ouchhh Studio: Wisdom of AI Light
In an Australian premiere and Illuminate Adelaide exclusive, the Istanbul-based visionaries at Ouchhh Studio present their major exhibition Wisdom of AI Light, an AI driven multisensory experience that's putting the art in artificial intelligence.
Housed in a massive, specially designed pop up exhibition space in the East End of the Adelaide CBD, it's a work of extraordinary scale and vision from the pioneers of data paintings and sculptures, where night and darkness come to life again with art and artificial intelligence.
Location: East End, Adelaide CBD
Dates: From Sat 16 July
Times: Sessions available every 45 minutes
Tue – Sun | first session 11am, last session 8.45pm Closed Mondays
For more information or tickets to Illuminate Adelaide events: