Wondering where to see Fireworks in Adelaide on New Year's Eve? Obviously when we think New Year's Eve in Adelaide, we naturally think FIREWORKS!
So the all important question is where can you see fireworks in Adelaide on New Year's Eve in 2022? We've found all the fireworks hot spots both metro and regional, you just have to get in the car and go!
New Year's Eve Fireworks in Adelaide 2022
Rymill Park New Year's Eve Fireworks 2022
The City of Adelaide's family friendly New Year's Eve event 'Light Up' will return to Rymill Park / Murlawirrapurka in 2022! Light Up is a ticketed event for a limited capacity.
Running from 6:00 pm to 1:00 am, live music will be presented across multiple stages, performers will rove through the crowd and there will be plenty of food options to suit all taste buds. There will be fireworks at 9:30 pm and midnight.
Pre-8pm tickets are fully booked. After 8pm, when the event is not at its capacity, members of the public will be admitted on a first-come, first-served basis.  The event runs until 1am.
Light Up is proudly presented by Gluttony.

Glenelg Fireworks 2022
Fireworks will light up the Glenelg sky once more this New Year's Eve 2022/23! There will be a family-friendly fireworks display at 9:30pm and then the main display at midnight. Entertainment starts from 7pm on Glenelg beach. Your best viewing point will be North of the Jetty.
For more information:
jettyroadglenelg.com.au/news/enjoy-a-vibrant-summer-of-events-at-jetty-road-glenelg

Brighton Beach New Year's Eve Fireworks
Brighton Beach will host a single fireworks display at 9:30pm, perfect for the kiddos and families who want to get home and the kids tucked in bed before midnight. You'll get fantastic views of the sky show on the Brighton Beach foreshore.
For more information: 
holdfast.sa.gov.au/discover-our-place/whats-on/nye-at-the-bay

City of Adelaide Midnight Moments 2022
There will be various exciting 'Midnight Moments' spread across the city and North Adelaide, with live music and on-street dining.
The 'Light Up' family event at Rymill Park / Murlawirrapurka will have two hybrid fireworks/lighting shows at 9:30 pm and midnight. Most of the Midnight Moment events hosted by The City of Adelaide will have a view of fireworks shows to be launched from nearby vantage points.
For best views of fireworks, book at ticket to 'Light Up' or one the Midnight Moment locations.
For more information about New Year's Eve in the City of Adelaide 2022:
cityofadelaide.com.au/new-years-eve

Victor Harbor New Year's Eve Fireworks
Head along to Warland Reserve, Victor Harbor, for the biggest night of the year! Starting from 7:30pm, join in the fun family entertainment. There's something for everybody, with the charming, mischievous and irresistibly funny 'The Doogans' a hit show not to be missed!
There'll be carnival rides for the thrill seekers, mini golf fun and party band Full Circle grooving the night away.
Kid's early show fireworks starts from 9:45 followed by a midnight firework spectacular to wrap up 2022 and bring in 2023.
Program
7:30pm            The Doogans live show
8:30pm            Full Circle Adelaide cover band
9:45pm            Kid's Fireworks
10.00pm          Full Circle Adelaide cover band
12.00am          Midnight Fireworks
Entertainment
* Girdler Family Amusements rides
* Mini golf
* Free face painting, free petting zoo
* Giant bubbles and roving performers
This is a night not to miss!
For more information:
visitvictorharbor.com/event/victor-harbor-new-years-eve-celebrations
Goolwa 'Off The Bridge' New Year's Eve Fireworks 2022
This New Year's Eve Goolwa will have fireworks off the bridge bringing the Goolwa wharf precinct to life. The event is organised by a committee of local community members who make it happen year in, year out.
For more information: 

Murray Bridge Family New Year's Eve Fireworks 2022
Sturt Reserve will be the place for families to welcome 2023 with New Year's Eve celebrations including fireworks being launched from the iconic Murray bridge.
Due to popular demand the Rural City of Murray Bridge will be hosting a family friendly, New Year's Eve party at Sturt Reserve featuring local musicians, a kids' zone, plenty of food and drink options and an amazing fireworks display at 9:45pm.
The iconic railway bridge will also be illuminated from dusk until midnight!
Commencing at 5pm, the New Year's Eve celebrations will also kick off the Splash Family Festival, with the kid's zone offering a taste of what is in store for Sturt Reserve during January.
The very popular activities will include a rock climbing wall, mini golf, giant hamster balls and roving entertainment will ensure that Sturt Reserve is the place to be for families that want to have fun on New Year's Eve.
For more information:
themurrayriver.com/listings/murray-bridge-new-years-eve-event/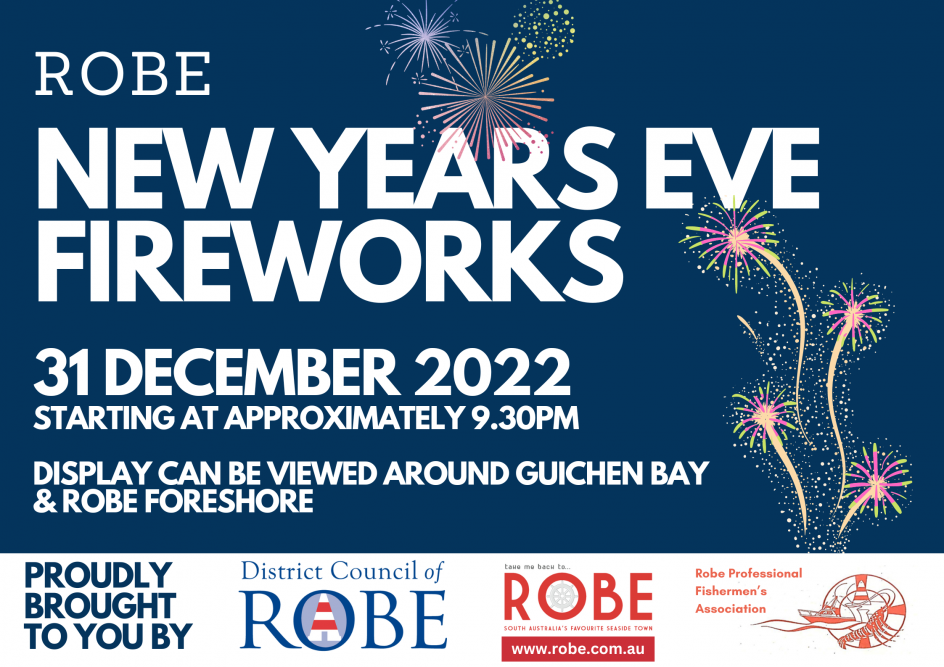 Robe Community New Year's Eve Fireworks 2022
Robe New Years Eve Fireworks is on again this year!
The Fireworks display will be launched from the Breakwater at approximately 9.30pm (depending on darkness) and be viewable from the Robe Foreshore and around Guichen Bay.
For more information:
robe.sa.gov.au/explore/event-calendar/events/robe-new-years-eve-fireworks
Point Turton Fireworks Display 2022
**Point Turton Caravan Park has announced their fireworks display will be a biannual event, so will not happen again until 2023. 
Head on down to the jetty and celebrate the year that was 2022 and get ready to welcome in the 2023 year with a BIG bang!
 This family friendly fireworks event will be held @ 9pm on New Year's Eve in front of the Caravan Park.
You can watch the fireworks from:
Flaherty's Beach
Magazine Bay
Private home/shack
Hardwicke Bay
For more information: 
Port Broughton Fireworks Display 2022
Heading to the Top of the Yorke this New Year's Eve? Watch the Port Broughton sky light up with a stunning free fireworks display at 9:30pm.
An amazing display will be on show from the Port Broughton Foreshore/Jetty. Spend the evening with friends and family along the green foreshore, plenty for the kids to do. BYO a picnic and drinks!
For more information: 
facebook.com/events/481205800706856

Whyalla New Year's Eve Fireworks 2022
If you're anywhere near the foreshore in Whyalla on New Year's Eve (or are keen for a fairly hefty drive from Adelaide.. about four hours) you can join the locals and say farewell to 2022 with a bang.
Sideshow alley will be on throughout the day from 12pm, followed by a fireworks spectacular at the marina from 9pm.
Pick a vantage spot anywhere along the foreshore, or view them from up close at the stunning new jetty.
No tickets required – enjoy the fireworks for free!
Drakes Supermarkets Copper Coast Fireworks Display 2022
You can get your fireworks fix on the Copper Coast, with the township of Wallaroo holding two fireworks displays across the evening, one at 9.30pm and midnight this year.
Head along and enjoy the Drakes New Year's Eve Celebrations with Amusement Rides, Food & Spectacular Fireworks displays at Wallaroo at 9.30pm and 12 Midnight.
For more information and the viewing location map:
facebook.com/CCNYECelebrations
Port Lincoln Jetty New Year's Eve Fireworks 2022
Join the locals in Port Lincoln to bring in the New Year with two sessions of FIREWORKS on the foreshore. 9:30pm & midnight.
No foreshore activities will be provided but there will be a spectacular fireworks display happening to celebrate the coming of a new year. BYO beach fun!
Please be mindful of COVID safe recommendations – social distancing, wear a mask and wash your hands!
For more information:
facebook.com/portlincolnchamberofcommerceandtourism/
In Lieu of New Year's Eve Fireworks in Adelaide this year…
If all else fails and you can't get yourself to a location to see some New Year's Eve fireworks in Adelaide, load up on sparklers and let the kids run wild in the backyard! They'll love it and all the dogs in the neighbourhood won't be barking! Everybody wins!