We've all heard the saying "fresh is best", and never a truer word has been spoken when it comes to the humble apple.
Whether it's a Gala you're craving, a Red Delicious or a Granny; if Pink Ladies are more to your taste or you've got a hankering for a crisp, fresh Fuji, there are over nine thousand apple trees at @Lenswood Pick Your Own, with different varieties of apples available across the season – with apple season predicted to open at the end of February this year!
Purchasing the 23 acre slice of Lenswood from sixth generation apple growers was part of a tree change for Emily and Chris Shipway, who were looking for somewhere amazing for their children to grow up. The property truly has become the apple of their eye, with the couple getting engaged in one of the apple rows, and then saying their I do's in the next row over.

New features for apple season '23
This year, the team at Lenswood have listened to feedback from their first season in 2022 and have further evolved the orchard into a tourism destination fusing agriculture and tourism together. Think a farm cross carnival vibe!

New features for 2023 are:
New trading hours – now during the week! Wednesday, Thursday and Friday 9am till 2pm
Expanded carparking
Farm Cafe featuring locally made apple pies and savoury bakery items
Partnerships with more local producers!
Apple Row Mini-Golf
New and improved kids scavenger hunt
Graded pricing of the apples, the more you buy the cheaper they are
X3 New Vintage tractors for kids to play on
Loyalty program
Kids Pedal Go-Kart Circuit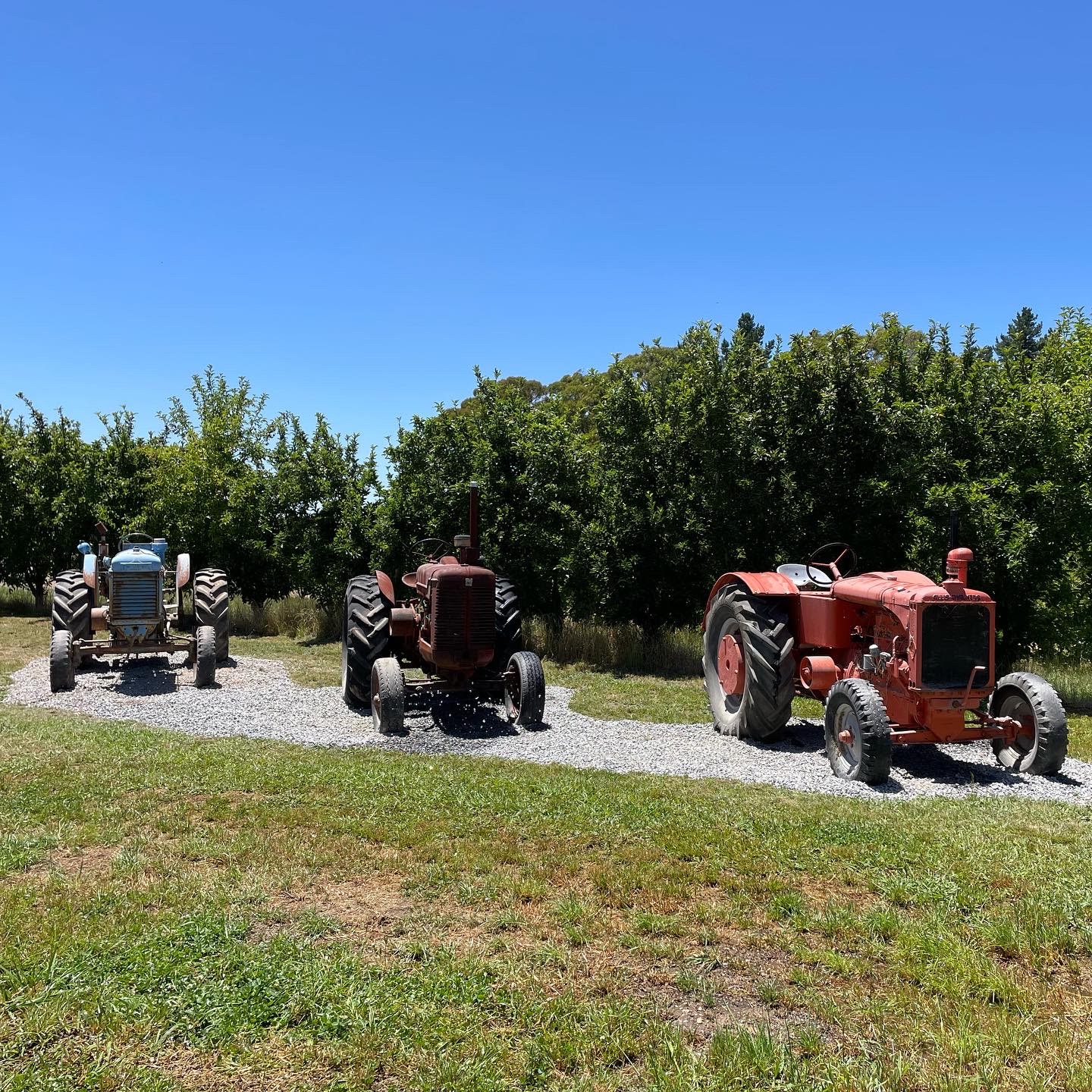 You'll still find:
8 different varieties available at different times throughout the season (some crossing over) – Pink Lady, Rosy Glow, Red Delicious, Gala, Golden Delicious, Granny Smith, Fuji and Sundowners.
Open weekends and public holidays 9am until 4pm
Pram and Wheelchair friendly areas of the orchard
Outdoor games
Farm machinery on display
All of May, Pink Lady season – Ladies @Lenswood, a donation campaign where by each weekend At Lenswood will be donating a proportion of sales to help ladies 'Lady's helping Ladies'. 

The apples don't fall far from the tree
Now raising their family on the orchard, Emily and Chris want to give others the unique experience of picking apples on a farm, along with the simple joy of biting into a piece of fruit straight from the tree.
"We want people to be able to see where their food comes from and learn about the mammoth effort it takes to grow something as simple as an apple," Emily told us. "Apple growers are always fighting to create the perfect 'store bought' looking apple, but we want people to know that if an apple has a little dent or imperfection… it doesn't mean it won't taste perfect".
We also wanted to create a destination made for exceptional and happy memories.
…not to mention the chance to soak in those magnificent Adelaide Hills views, as well as offering couples a beautiful place to stay, celebrate or even get hitched themselves.
The Shipway family have also made sure their orchard truly offers a family friendly experience, with easy onsite parking that's both pram and wheelchair friendly, onsite amenities, as well as tractors and farm equipment on display for the kiddos to ooh and ahh at…and a cheeky coffee for the parents!
@Lenswood also offer mid-week group experiences and school tours. See website and socials for times as availability is seasonal.
Pick, Play and Stay
Watch this space, because luxury, couples accommodation is currently under construction within the @Lenswood orchard. The team are lovingly converting the old pickers accommodation into the perfect place for that much needed alone time for Mum and Dad. We're talking 54 square metres of heaven, including a double sided open fireplace, freestanding bath overlooking the orchard, double shower, full kitchen and of course those incredible views stretching as far as the eye can see.
Glamping tents are also on the way, offering a completely unique accommodation experience on the property!
Pick your own apples
Picking season @Lenswood starts in late February and runs until late May. $5 entry fee (including all you can eat apples) for adults, $2 for children (under 4's free). $5 per kg for picked fruit.
---
122 Harris Road, Lenswood
atlenswood.com.au
@atlenswoodpickyourown
@atlenswoodaccommodation