Nestled 16 km south of Adelaide on Majors Road in O'Halloran Hill, Glen­thorne Nation­al Park-Itya­mai­it­pin­na Yarta has officially opened its gates, offering an awesome adventure playground and a charming visitor hub. This new national park is sure to become a cherished destination for outdoor enthusiasts and nature lovers of all ages.
The star attraction of the park is undoubtedly the adventure playground, a sprawling play space spread across an impressive 7,000 square meters. With its natural setting and incredible play space construction, it stands as one of the largest nature play areas in all of South Australia.
Let's explore some of the exciting features that await eager adventurers.
Adventure playground highlights
Slides Galore: Young thrill-seekers will delight in the three slides that promise an adrenaline-pumping experience, descending into laughter as they whoosh down the slopes.
Eclectic Play Equipment: The adventure playground caters to children of various interests and abilities. From traditional favorites like the see-saw and spinner to a fossil dig area that encourages budding archaeologists to uncover the past, there's something for every young explorer.
Cultural Connections: Immerse yourself in the rich cultural heritage of the region as the playground showcases Kau­r­na carvings and sculptures. These artworks add a sense of wonder and appreciation for the land's traditional custodians.
Climbing Delights: Adventure lovers will have plenty of options to challenge their climbing skills. Rope and log climbing elements promise to test their agility and courage.
Soaring Fun: Experience the thrill of flying on a 25-meter long flying fox, providing a memorable moment of pure joy and excitement.
Inclusive Play: Ensuring that children of all abilities can enjoy the space, the playground features a wide range of accessible equipment. Every child deserves the chance to explore and have fun without limitations.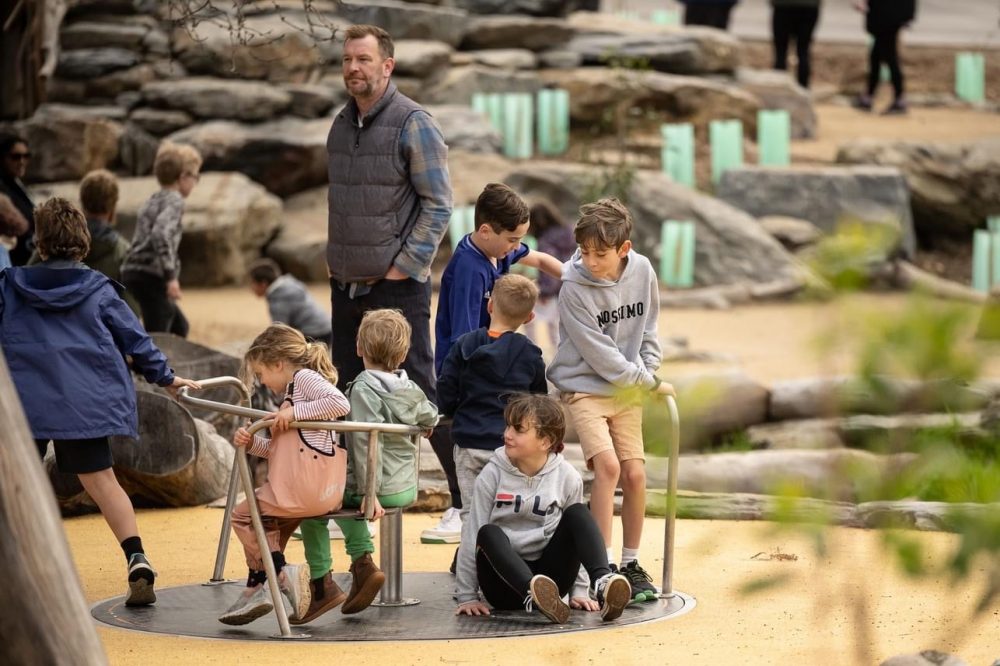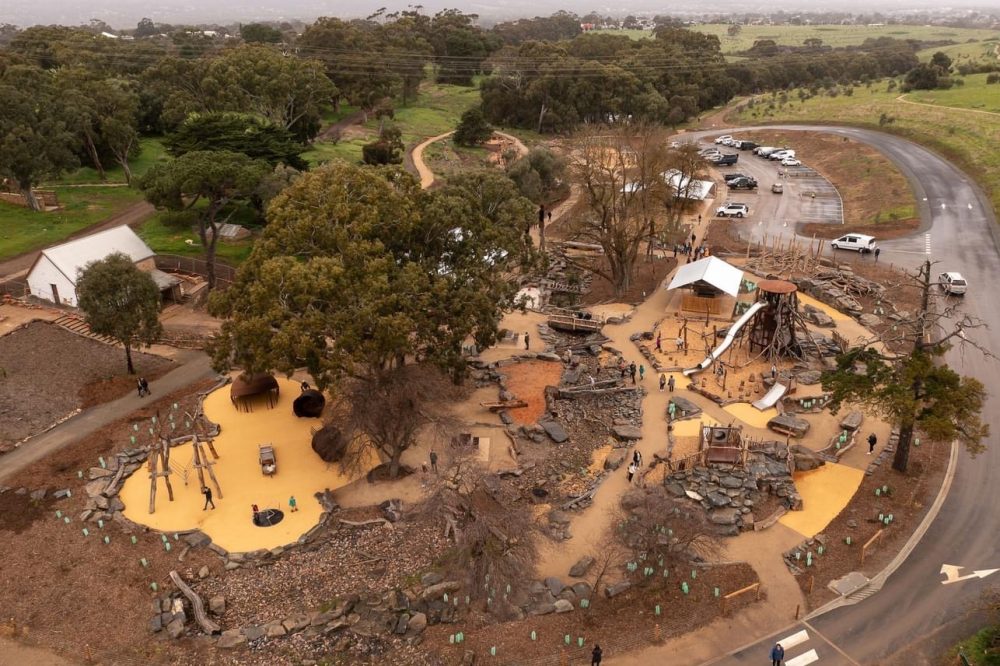 Visitor hub amenities
To complement the adventure playground, Glen­thorne Nation­al Park-Itya­mai­it­pin­na Yarta offers a purpose built visitor hub with convenient amenities, ensuring that families can make the most of their day out.
Shelters and Picnic Areas: Enjoy a relaxing lunch surrounded by nature with the provided shelters and picnic areas. It's the perfect opportunity to savor the great outdoors with loved ones.
BBQ Facilities: Embrace the Aussie tradition of barbecuing as the park features top-notch BBQ facilities, adding an element of fun to the dining experience.
Toilets: Clean and well-maintained toilets are available on-site, ensuring the comfort and convenience of park visitors.
Heritage Buildings: The park's location is enriched with history, and the inclusion of heritage buildings adds a touch of nostalgia and charm to the experience.
Glen­thorne Nation­al Park-Itya­mai­it­pin­na Yarta has been carefully designed to cater to the diverse needs of visitors while preserving the natural beauty and cultural significance of the region. By blending adventure, nature, and history, the park presents a holistic and immersive experience that fosters a deeper connection with the environment.
As families and friends gather to create cherished memories, Glen­thorne Nation­al Park-Itya­mai­it­pin­na Yarta will undoubtedly become a cherished gem within the heart of Adelaide's southern suburbs. Whether you're seeking an adrenaline rush on the slides or an educational exploration of the park's natural setting, this newly opened playground promises to be an unforgettable destination for all.
So, pack your bags, gather the kiddos, and head on an adventure like no other at Glen­thorne Nation­al Park-Itya­mai­it­pin­na Yarta!
Image credit: National Parks and Wildlife Service South Australia, Facebook
---