Celebrating the wonder that we all grew up with, the show will feature beloved Disney characters like Mickey and Minnie Mouse, Buzz Lightyear, Woody, Elsa, Anna, Moana, and more. The tour will begin in Perth and will travel to Adelaide, Melbourne, Brisbane, Sydney, and Newcastle over June and July 2023.
This adventure-packed show is perfect for families and people of all ages. It features world-class skating, high-flying acrobatics, and unexpected stunts both on the ice and in the air. The show brings to life the magic of Disney, starring some of the world's most beloved characters and using advanced ice-skating technology.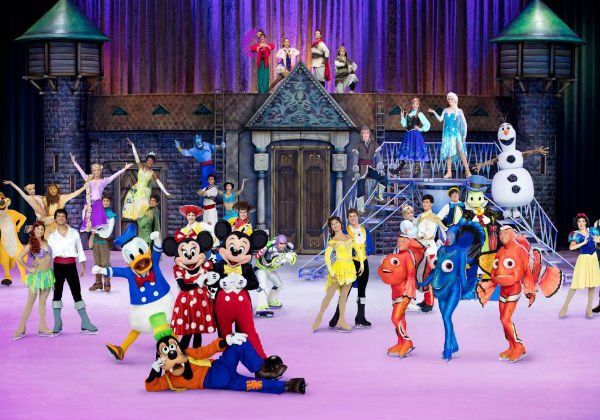 What to expect at Disney on Ice
The show will begin with Mickey Mouse and his friends. They will travel through Tinker Bell's immersive and fantastic worlds using Captain Hook's treasure map. The audience will be entertained with hilarious pirates flipping, tumbling, and twisting on tumble tracks and stilts as they show off for Captain Hook.
Next, the colourful spirit realm of Disney-Pixar's Coco will be explored before Moana sets sail across the ice to save her island from the fiery wrath of Te Ka. Belle's enchanted chandelier comes to life in the sky, and the entire crowd will sing-along with Elsa in the icy world of Frozen. The show concludes with Buzz Lightyear, Woody, and Jessie recruiting the Green Army Men for a daring rescue in Andy's room, showing the power of teamwork.
It's Disney On Ice presents 100 Years of Wonder in one action-packed show that families, and kids of all ages will love. BOOK NOW!
Register for tickets to Disney on Ice in Adelaide
Pre-sale tickets are available from Thursday, March 23, at 10 am.
Don't miss out on the chance to witness the magic of Disney come to life on ice in Australia.
WHERE:
Adelaide, 23-25 June, Adelaide Entertainment Centre
---
Sign up to become a priority guest: