INDOOR & OUTDOOR POOLS IN ADELAIDE
Lucky for us, Adelaide is full to the brim (see what we did there?) with awesome public pools and waterparks to head along to with your family. Whether it's an indoor pool or an outdoor pool, a full state of the art aquatic centre or a suburban splash spot there's nothing quite like cooling off with a swim. It's time to cool off with our top 10 indoor and outdoor swimming pools in Adelaide.
In fact, we have so many indoor and outdoor swimming pools in Adelaide that you should have no trouble finding one to plunge into for cooling off purposes. Please note all centres have an entry fee and it's always worth calling ahead to check whether you need to prebook to these Adelaide swimming centres.
Updated: October 2023
We've listed our top 10 indoor and outdoor swimming pools in Adelaide, South Australia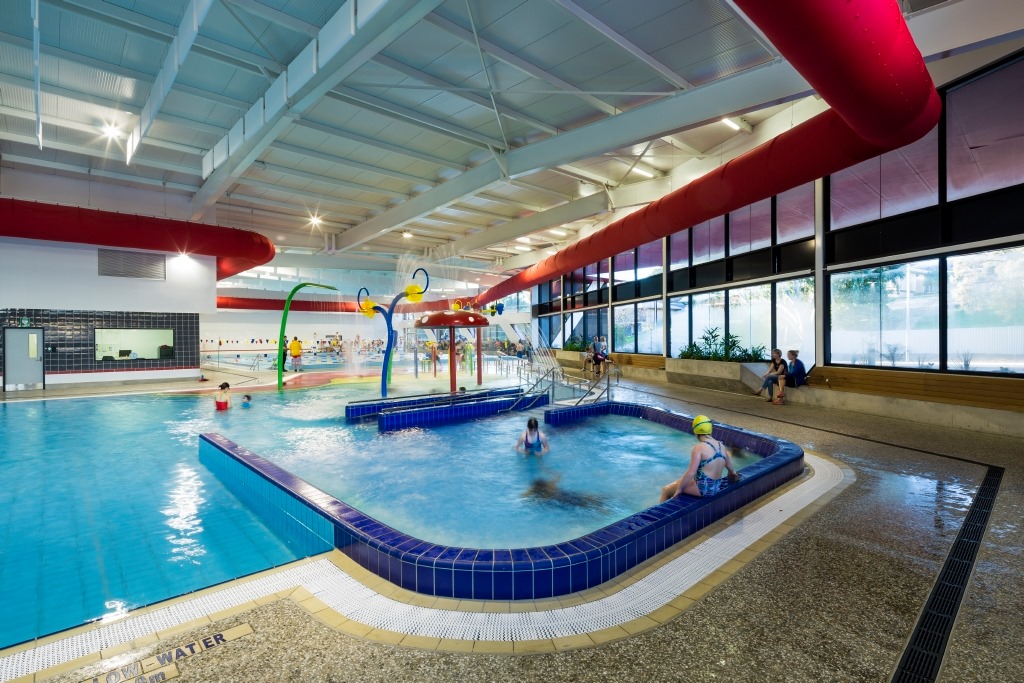 The ARC Swim Centre, Campbelltown
The Arc Swim Centre is one of the newer indoor swimming centres in Adelaide, and as such is absolutely state of the art. Offering fun kids splash zones, it's the perfect play and lay area for families, with spacious interconnected heated pool as well as a heated splash pad and play zones. Think giant flower garden in the water – complete with a huge spotty mushroom – there's so many water toys to splash around in here, including the crowd favourite dump bucket and a giant tunnel of water rings and spraying shower heads.
There's also plenty of relaxation area for kids of all ages and abilities and their families, and being all indoors you don't have to worry about UV rays on their precious baby skin! There are also lap swimming pools and and a sauna and relaxation area if you are hitting the pool on your own!
What's more, is there is a cafe on site for the much needed caffeine hit and hot chippies mid-swim to keep ours and the kiddos energy up.
531 Lower North East Road, Campbelltown 
---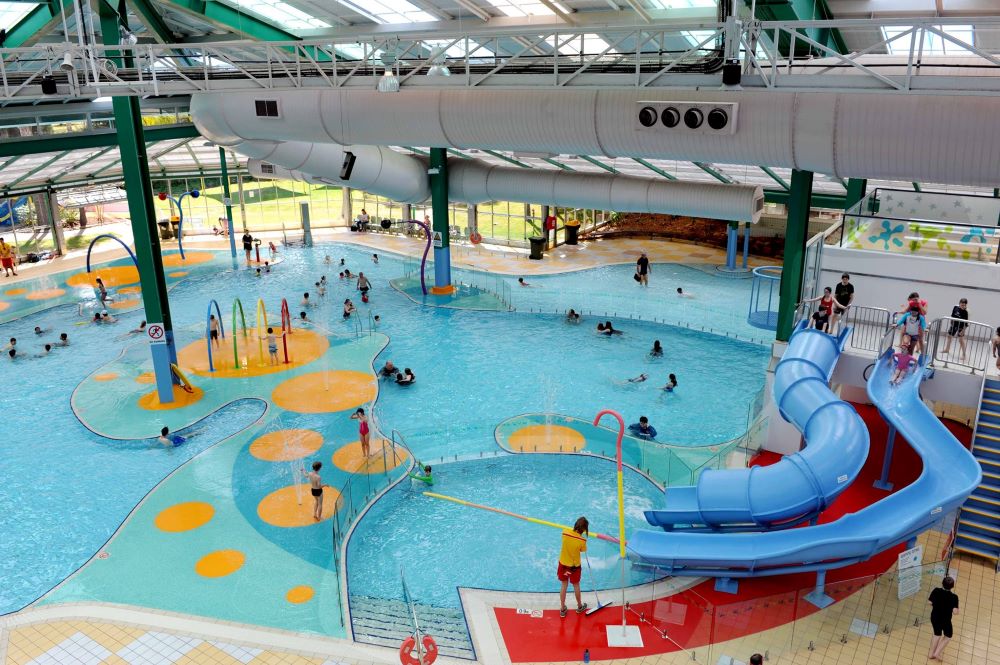 Adelaide Aquatic Centre, North Adelaide
The Adelaide Aquatic Centre indoor swimming centre in North Adelaide is the OG swim centre in Adelaide that we probably all remember going to on hot summer Adelaide days when we were kids. And it's still going strong!
There are three main pools at the Adelaide Aquatic Centre all heated to a minimum of 29 degrees so you're not going to have any kids with chattery teeth on your hands when you're swimming here! The best pool for families and kids at the Aquatic Centre is the leisure pool which is specifically set up for kids and families to have fun, with slides, shapes, and shallow water. It also has waterslides that are open at specific times throughout the week. Little tackers won't have any problems in this pool as the depth maxes out at 0.9m.
Jeffcott Rd, North Adelaide
---

Marion Outdoor Pool, Park Holme
The recently renovated Marion Outdoor Pool has been upgraded to an awesome water park for kids and families! The water play park area has four waterslides, a tipping bucket which dumps 600L of water (always a fave!), water cannons and a splash pad. What's more, the Marion Outdoor Pool also hosts two larger water slides starting from atop a 10m platform, with a twisty spiral slide and a speed slide which feels like a vertical plunge and finishes in one heck of a splash!
As well as the 50m main pool, there are two smaller pools that are heated, fully shaded and offer a sun-safe respite for younger children and toddlers. The middle pool is 60-90cm deep for learners to help to increase their confidence. The smallest pool has a max depth of 40cm so that younger children can enjoy a safe splash too.
There is lots of grassed areas and extensive shade to enjoy a rest between splashes, and the onsite kiosk serves up hot and cold foods including hot chips, toasted sandwiches and ice creams. Barista made coffee is sure to keep the parents happy!
120 Hendrie Street, Park Holme
---

George Bolton Swimming Centre, Burnside
The George Bolton outdoor Swimming Centre in Burnside is an absolute community favourite. Set amongst the leafy gum trees of Hazelwood Park, there's plenty of shade for families to set up for the afternoon with a picnic and enjoy the facilities. With three swimming pools; a toddler pool complete with splash and water play zone, a learners pool that's slightly deeper and usually full of kids, as well as a main lap pool, there's somewhere to swim here for every age and ability.
The surrounding Hazelwood Park also has a fabulous playground if the kids are still looking for some fun after their swim! The onsite kiosk means lunch and/or snacks are sorted!
Greenhill Rd &, Howard Terrace, Hazelwood Park
---

Waterworld Aquatic Centre, Ridgehaven
Another fabulous option for outdoor swimming and splashing in Adelaide is Waterworld Aquatic Centre in Ridgehaven. This place is completely set up for kids and families, with plenty of shady areas and grass for lounging on. We know kids love waterslides (and frankly, so do the adults!) and Waterworld has a killer enclosed curly slide and two speed slides, as well as a super fun splash pad for kids and a learner pool for paddling.
571 Montague Rd, Modbury
---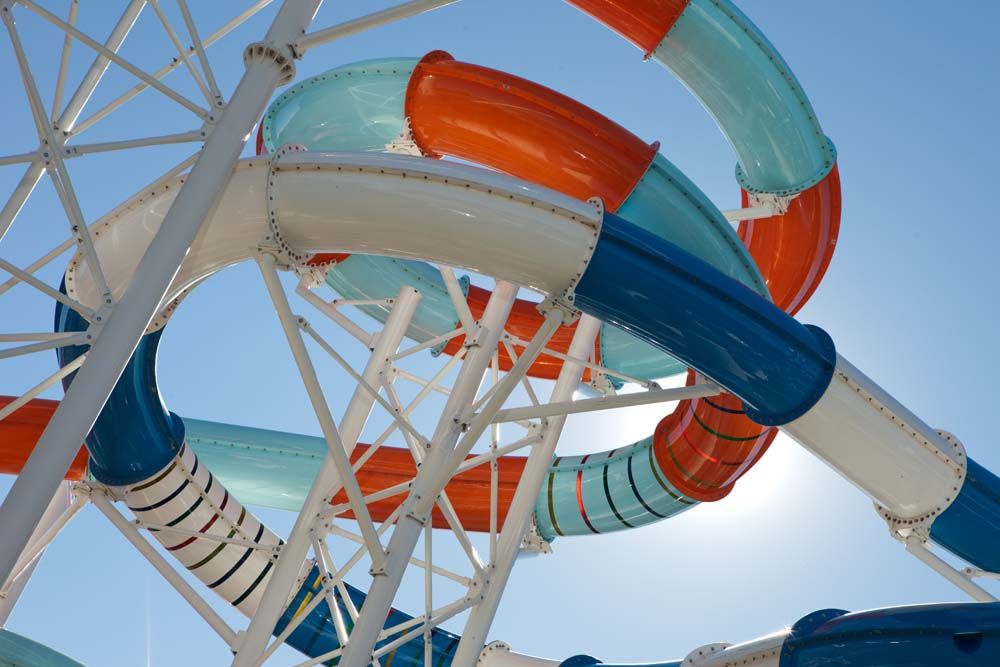 SA Aquatic and Leisure Centre, Oaklands Park
SA Aquatic & Leisure Centre boasts a range of world-class aquatic facilities, and as one of the newer swimming centres in South Australia, and the official state aquatic centre, it certainly doesn't disappoint with its all year round aquatic and leisure activities. With dive pools and diving boards, multiple pools of different sizes including a learner pool, leisure pool and an inflatable obstacle course (SO.MUCH.FUN) as well as a children's splash park and toddler pool – absolutely no one is going to be bored for even a second at the SA Aquatic and Leisure Centre. It's perfect for kids and families looking to beat the heat!
443 Morphett Road, Oaklands Park
---

Unley Swimming Centre, Forestville
Unley locals like to think of the Unley Swimming Centre outdoor swimming pool as a bit of a suburban best kept secret. With a lap swimming pool as well as toddler and junior pools (both fully shaded – YAY), the Unley swimming centre is well appointed for kids and families to spend the day, and has plenty of grass to lay out on in the shade as you pop in and out of the pools.
It's a little quieter than some of the bigger swimming centres which might be better suited to some families, as it's a great place to have a dip but avoid the mega crowds you might find at big aquatics centres!
Ethel Street, Forestville
---

Norwood Swimming Centre, Kensington
Reopens Saturday Nov 4th, 2023
Another fabulous outdoor swimming centre for Adelaide families in the leafy Eastern suburbs! Located just off The Parade in Norwood, this much loved 1950s swimming centre is a 'classic Australian local pool' within the shady setting of the surrounding river gums. Boasting a shaded toddler pool, a 50m main pool and an inflatable obstacle course (every Sunday between 12:30pm and 3:30pm) this is an awesome spot to spend the day poolside with your kids!
Phillips Street, Kensington
---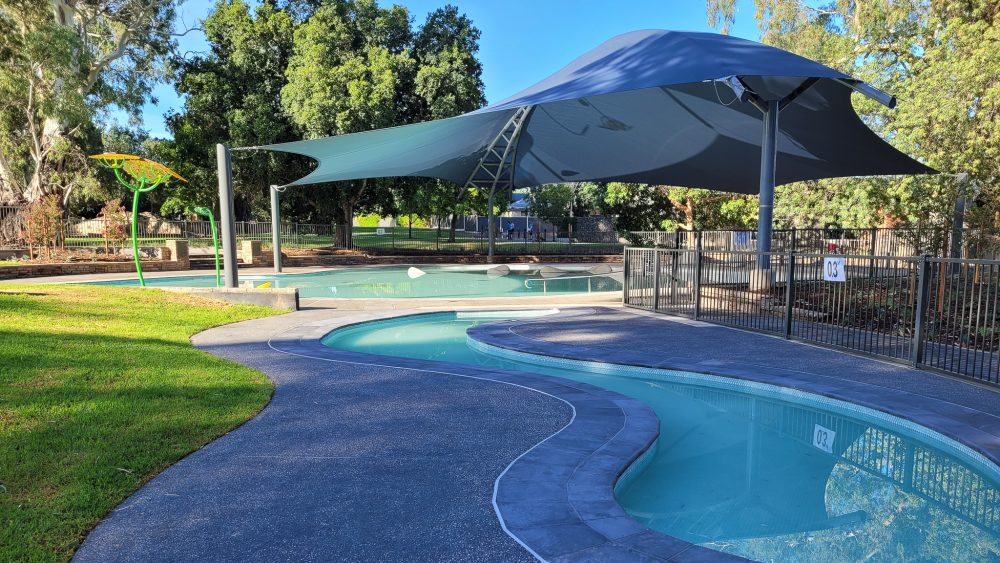 Tusmore Pool, Tusmore
One of the major drawcards for the beautiful outdoor toddler pool in Tusmore Park is that it's FREE! And for an added bonus, it's recently had a full refurbishment and has a fully fenced wading pool, more water spouts, an extra lagoon alongside the original pool and beautiful grassy surrounds perfect for picnics!
Stirling St, Tusmore 
---

Adelaide Hills War Memorial Swimming Centre, Woodside
Reopens Saturday Nov 4th, 2023
Located off Nairne Rd in Woodside, the Adelaide Hills War Memorial Swimming Centre is a fun family-friendly place to visit. The swimming centre boasts three heated pools, with the medium and toddler pool being under shade, 25 metre pool has a half shade as well.
Keep in mind the Adelaide Hills War Memorial Swimming Centre is only open for public swimming if Mt Barker temperature 25 degrees or above as forecast the night before.
8 Nairne Rd, Woodside
adelaidehillsswimmingcentre.com.au
---
If all else fails….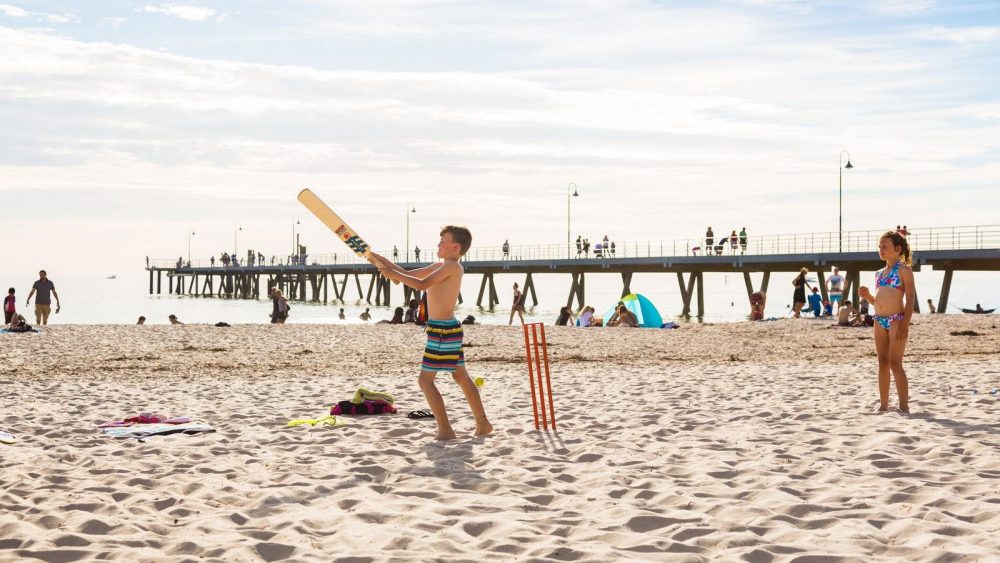 Hit the Beach
In South Australia we are so lucky to have so many incredible beaches along our beautiful coast line, so if you don't fancy an aquatic centre or public pool, you can always hit the beach!
Check out 10 best beaches for families if you're looking for some inspiration.
---